Cruelty-Free Fashion Show at UNCW!
Written by Theresa Morini, president of Students for the Ethical Treatment of Animals (SETA) at UNC – Wilmington
The idea for the cruelty-free fashion show was brought up in SETA's UNCW chapter meeting while discussing peta2's "Whose Skin Are You In?" campaign. Rather than leafleting and petitioning like we have done in the past, we thought this would be a fun way to educate people on clothing alternatives. I e-mailed each company from PETA's list of vegan companies to see if they would be willing to donate any articles of clothing. We were amazed to find how many companies were so generous and willing to help. Cow Jones Industrials, Ideal North, Kitty Gallery, Mink Shoes, neverleatherland, and Vegan Queen all contributed to our fashion show. Their pieces were auctioned off after the show in a silent auction and SETA's proceeds went to the local Humane Society.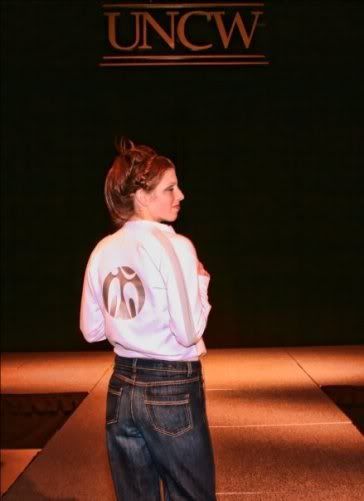 Speaking with students after the show, I found that many of them had initially come just to see a fashion show and had been oblivious to the facts and what has actually been
happening in the industry
. They enjoyed the show and were glad that we brought this to their attention. Many people were surprised to find how realistic the faux products were and how
fashionable cruelty-free clothing
can be.