Rockstar Taste of Chaos: We're so Fly, We're Poppin'
It's about a month into the launch of our Skelanimals Fur Is Dead campaign (Pledge to be 100,000 strong against fur!), and out here on the Rockstar Taste of Chaos tour us Road Warriors are rockin' it out, hardcore.
Earlier this week in Boston we had an amazing
Street Teamer
help us out and show Boston what's up.
And now, one of our favorite parts of tour (and life): GOOD VEG FOOD. We had a nice little family dinner at
The Macaroni Grill
in Atlanta. We all created our own pasta dishes with a HUGE selection of ingredients, yum!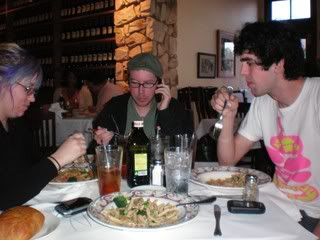 They even gave us crayons which we used to create family portraits, cupcake style! I think it represents our crew perfectly. We suggest you get in touch with your inner cupcake.
Also this week, VERY EXCITING, Sarah joined us on the road to help spread the FUR IS DEAD word. You may recognize her from other such rad summer events such as Vans Warped Tour and Sounds of the Underground. Needless to say, she rules.
That's it for now, we're off to celebrate (soy) ice cream Monday, we suggest you do the same! Our recommendation:
Peanut Butter Zig Zag from Purely Decadent
. It makes us smile.
Peace out home slices.
– peta2 Road Warriors