Students Vote to Keep KFC Off Campus!
After gathering over 500 petition signatures from their fellow students, the Power of One student animal rights group at Florida Gulf Coast University has successfully passed a bill in their student government stating KFC is NOT welcome on their campus, for reasons of cruelty to animals!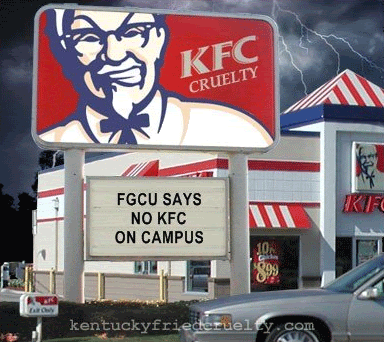 The true beauty of all this is that KFC never even released plans to move onto the campus in the first place. But by the students passing this amazing bill, they have sent a VERY strong signal to the CEOs of KFC that until they clean up their act, they had better stay FAR away from this campus! 🙂 Not to mention, they educated thousands of college students about the abuse KFC suppliers inflict on animals in the process.
Make sure to check out all of the details on the "Student Spotlight" section of our site, written by the student group president, Regina, herself! While you're there, check out some of the other amazing activism reports from college students worldwide. You'll be inspired, I promise!

– Ryan!

P.S. – This activism also caught the attention of media outlets ALL across Florida. Check out a video from a local station by clicking on the newspaper clip below: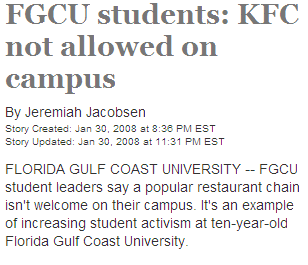 P.P.S. – To run a similar campaign on YOUR campus,
email me
to get started!