Veganized the Dining Halls at USF!
Written by Meg Malek, president of Students Protecting the Environment and Animals with Knowledge (S.P.E.A.K.)
I stopped eating at our dining halls a while ago, because they really didn't have the food I wanted to eat. I determined that if I didn't eat there, that I would save money and eat good veggie recipes that I actually wanted, or at least better ones than they were serving. So when a couple friends came to me to discuss a vegetarian/environmental club I was all for it, and soon we discussed our dining options. I emailed peta2 for support. In addition to the campaign pack we got, we heard that a peta2 crew would be passing through town, and they could help us petition for the better menus!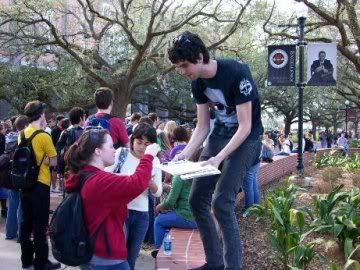 Together, we gathered more than 3,000 petition signatures from students!
When we talked to our dining services, things went incredibly well. They told us that their job is to hear our wants in the food service, and they were happy to respond to our requests. We stated our desires and showed them the thousands of signatures that we obtained over two days of petitioning. We discussed their options for vegans and vegetarians. They had choices, but they were uninspired and repetitive. They would frequently put out steamed corn or steamed vegetables and call it vegan, and although they would have several of these options, we explained gently that we still needing of sustenance, not just the side dish here and there to satisfy us. We gave them the recipes that peta2 recommended, as well as excerpts from other Aramark cafeterias of their success with obtaining more and better vegetarian and vegan foods in their menus.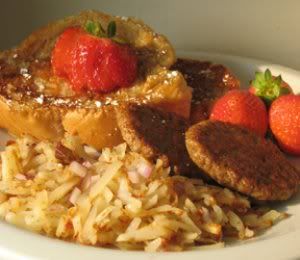 Within three days, they started labeling the items they already sold that were vegan and vegetarian as such, and people were definitely reacting. The dining halls added veggie bacon and veggie sausages, and they're even looking into soy "eggs" for the omelet bar!
There is a very popular ice cream machine that everyone visits before they leave the food halls. It is and always has been vegan ice cream (something that we were unaware of before our meeting), but now it's clearly labeled!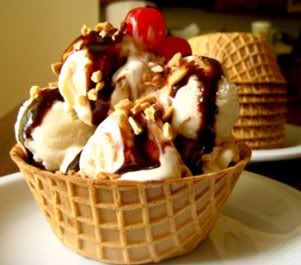 They still serve a lot of the items they had before, such as a
seared sesame tofu over rice
, but now they're adding things to the dish to make them a more complete meal. In that case, they added sesame vegetables. Also, they implemented a program where students can go into any restaurant and ask for specific items to be combined in a "make your own meal" fashion. All the appropriate signage has been placed now so that everybody knows the new policies.
Quite a success for a group that's only three months old, huh?