Steve Aoki: Hardcore for Animals
Steve Aoki is an EDM superstar. He tours the world year-round, bringing his cake-throwing live show and bass-driven mashups to the masses. He's the type of DJ who is so interactive that fans feel like they're at a rock show rather than a rave. Collaborations and tours with Kid Ink and Waka Flocka Flame along with his efforts at Dim Mak (Aoki's record label) have helped make him a household name—and a very interesting one at that!
Aoki's roots are in punk rock and hardcore, and he's an animal rights supporter through and through. Get a glimpse of how he came up in the scene, and find out why he'll never be seen in a fur coat:
When it comes to fur, Aoki says that it's "gaudy" and it "smells of death." Remember that time he said that he'd rather be arrested than wear fur? That's a heavy statement!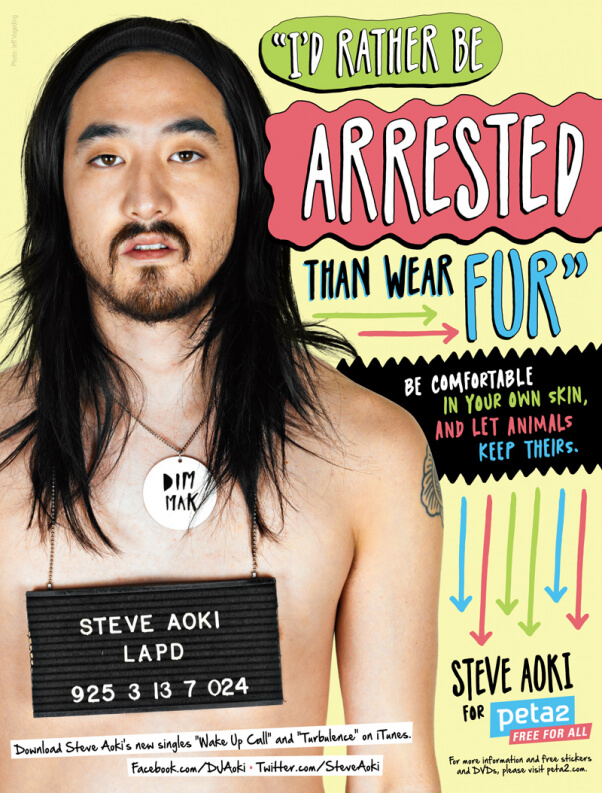 Millions of dogs, cats, minks, rabbits, foxes, raccoons, and other animals are bludgeoned and skinned alive for their fur every year. These animals live with fear, stress, disease, parasites, and other physical and psychological hardships, all for the sake of an unnecessary global industry that makes billions of dollars annually.
Look at it this way: If you wouldn't wear your dog, why would you EVER want to wear a fur coat?
Help animals keep their skin by choosing to buy only vegan clothing. Check out our guide to cruelty-free fashion today.
Text
peta2

to

30933

for ways to help animals, tips on compassionate living, and more!

Terms for automated texts/calls from peta2: http://peta.vg/txt. Text STOP to end, HELP for more info. Msg/data rates may apply. U.S. only.