5 Easy Ways to Help Animals Used for Food
Deprived of everything that's natural and important to them, animals used for food live in stressful conditions—crammed by the thousands into filthy, windowless sheds and forced to live inside wire cages and other cruel confinement systems. Billions of them are killed for their flesh every year in the U.S. alone. Animals are playful, funny, curious, and intelligent individuals. They can feel happiness and pain, and just like anyone else, they deserve respect and freedom.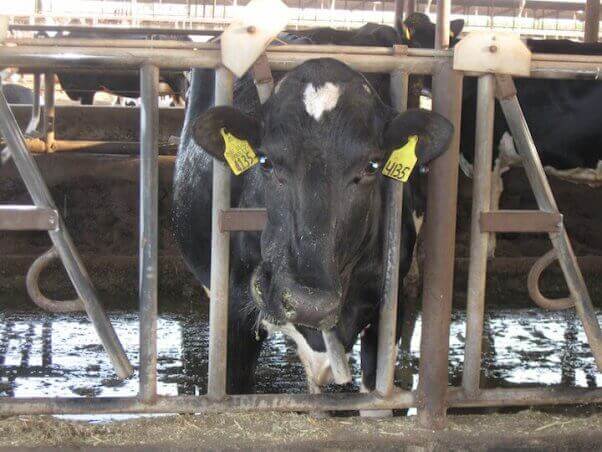 You are what you eat—and not consuming dead animals can make you feel so alive! Plus, you don't want to be the reason someone suffers or dies, right? The best way to help animals used for food is to leave them off your plate. If you're already living vegan (high-five!), you may be thinking, "What else can I do?"
Here are five easy ways to use your voice to help prevent animals from being exploited and killed for food:
1. Sharing is caring.
Although awareness of the cruelty animals endure on factory farms has definitely increased, a lot of people still don't know what really goes on before their food gets to their plates. Share a video that the meat industry doesn't want people to see, or choose from the hundreds of our YouTube videos to share on Instagram and TikTok. You'll be saving lives with just a few clicks of your mouse. How easy is that?!
2. Post photos of vegan food.
A picture says a thousand words, and besides, why not inspire people with all the delicious food you're eating? Tweet a photo of your latest vegan cuisine, and post a TikTok video of you and your friends making some yummy vegan food. Once your friends and family see all the mouthwatering grub they're missing out on, they're going to be texting you asking to come over for dinner!
3. Rock animal-friendly gear.
Whether you're at the park with your dog or out shopping with friends, you can speak up for the billions of animals on factory farms simply by rocking animal rights clothing and accessories. Wear an animal liberation tee or a hat that starts conversations so that you never miss a chance to get the word out (and show that you're proud of your vegan lifestyle).
4. Host a vegan barbecue.
Fire up the grill! The sky's the limit when it comes to vegan cooking, and hosting a vegan barbecue is a great way to show meat-eaters how much fun eating with compassion can be. Check out these delicious barbecue recipes, and don't forget to have some leaflets on hand for your guests to take home. Have others join in on the fun by making it a potluck.
5. Get a veggie burger added to the menu.
If you want to save animals and get your whole school in on the action, get a veggie burger added in the cafeteria. You'll also be benefiting the planet and helping your fellow students with healthier lunch options. Plus, you'll be able to show your friends how delish animal-free meals are.
See how easy it is to speak up for animals used for food? Always remember that animals depend on us to help them—we should never be silent about cruelty.
Text
peta2

to

30933

for ways to help animals, tips on compassionate living, and more!

Terms for automated texts/calls from peta2: http://peta.vg/txt. Text STOP to end, HELP for more info. Msg/data rates may apply. U.S. only.