Remind Your Friends That "Meat is Murder" With Free Stickers!
When someone eats a hamburger, a steak, or chicken wings, they're feasting on another being's flesh. It's uncomfy to think about, right? That's the point. We need to remind others that killing animals is murder. Animals killed for food valued their lives and relationships, just like we do. They didn't want to die just to end up on someone's plate. 💔
What better way to spread the word than with our hard-hitting "Meat Is Murder" stickers?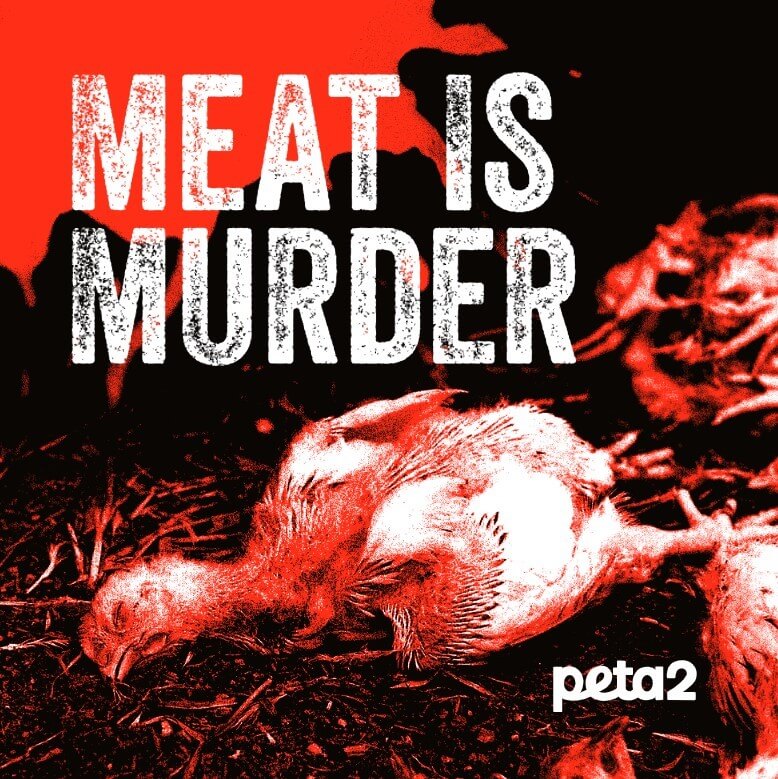 This image of a slaughtered chicken shows how heartbreaking the whole concept of meat is. By putting these stickers on your water bottle, notebook, laptop, phone case, or other items, you'll be showing meat-eaters a snapshot of where their food really comes from.
Today, 99% of animals used for food in the U.S. live on factory farms, where they're squeezed into filthy spaces and denied the chance to raise their families, build their homes, or even breathe fresh air. They're then shipped to the slaughterhouse, where workers slit their throats and drop them in scalding-hot water—many while they're still conscious. 😨
Animals need our help to avoid living and dying in agony. Order five FREE "Meat Is Murder" stickers today to expose the cruelty behind meat and convince others to eat only foods that don't come from animals. As a bonus, we'll toss in a "Guide to Going Vegan," full of tips, tricks, and recipes that make going vegan easy (and tasty!). 😊
By submitting this form, you're acknowledging that you have read and agree to our privacy policy and agree to receive e-mails from us.
Text
peta2

to

30933

for ways to help animals, tips on compassionate living, and more!

Terms for automated texts/calls from peta2: http://peta.vg/txt. Text STOP to end, HELP for more info. Msg/data rates may apply. U.S. only.