Top 5 Easy Vegan School Lunches
Check out these five school lunch ideas for definitive proof that eating vegan is easy, delicious, and super-affordable for students (not to mention the coolest thing ever, since you're saving nearly 200 animals a year—just by not eating them!):
1. A peanut butter (or almond butter) and jelly sandwich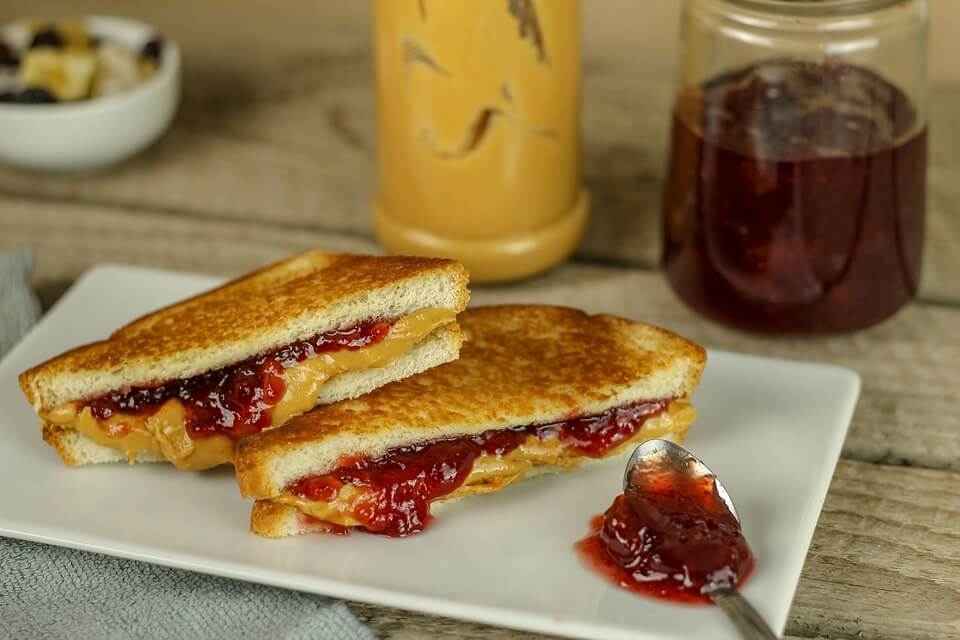 This lunch is packed with protein and cheery childhood memories. Have this bagel sammie with some chocolate soy milk to embrace those old-school cafeteria days (but veganized, duh!).
2. Vegan beef or chicken burger with your favorite toppings!
The possibilities are endless. Just put your vegan mayo or ranch on the side so your sandwich doesn't get soggy during the school day!
3. On-the-go salad
Layer baked tofu, chickpeas, and tomatoes—or whatever toppings you enjoy—in a jar and top with spinach, romaine, or other greens. Store in the refrigerator until you're ready to eat. You can also prep exciting burrito bowl ingredients in a mason jar with this delicious recipe.
4. Vegan soup or chili in a thermos
If you don't own a thermos, get on that ASAP—it'll change your life. You can find a variety of premade vegan soups and ramen at your local grocery store to bring along to school in your thermos. Add an orange or a sliced apple with peanut butter on the side if you're really trying to win at life.
5. Vegan "cheese" and veggie sandwich
Just toast some bread, add some vegan cheese (try Follow Your Heart's Dairy-Free Smoked Gouda, my personal favorite), and your fave veggies (if you've never used "fave" and "veggies" in the same sentence before, try cucumber, lettuce, tomato, and avocado), and that's it! We also love this tofu-egg salad recipe!
*****
So there you have it! These are pretty much the easiest school lunch ideas EVER. These meals are really handy if you find yourself rushing out the door in the morning and then crashing (or binge-watching Netflix) as soon as you finish your homework. If you have some extra time (HOW?! Tell me your secrets!), try some more involved vegan recipes to keep things new and exciting. You can check out more recipes and vegan food info on the peta2 food page.
Text
peta2

to

30933

for ways to help animals, tips on compassionate living, and more!

Terms for automated texts/calls from peta2: http://peta.vg/txt. Text STOP to end, HELP for more info. Msg/data rates may apply. U.S. only.