2023 Festival Recap—How peta2 Helped Animals at This Year's Top Events
You know what we love doing here at peta2? Going to music festivals! 🎸👩‍🎤 We've been hitting up huge music events all year to meet others who want to help animals—and set these compassionate people up for success. Check out this festival recap to see what we do at these events and why you should always stop by our tent. 😉
Adjacent Festival (May 27–28, Atlantic City Beach, New Jersey)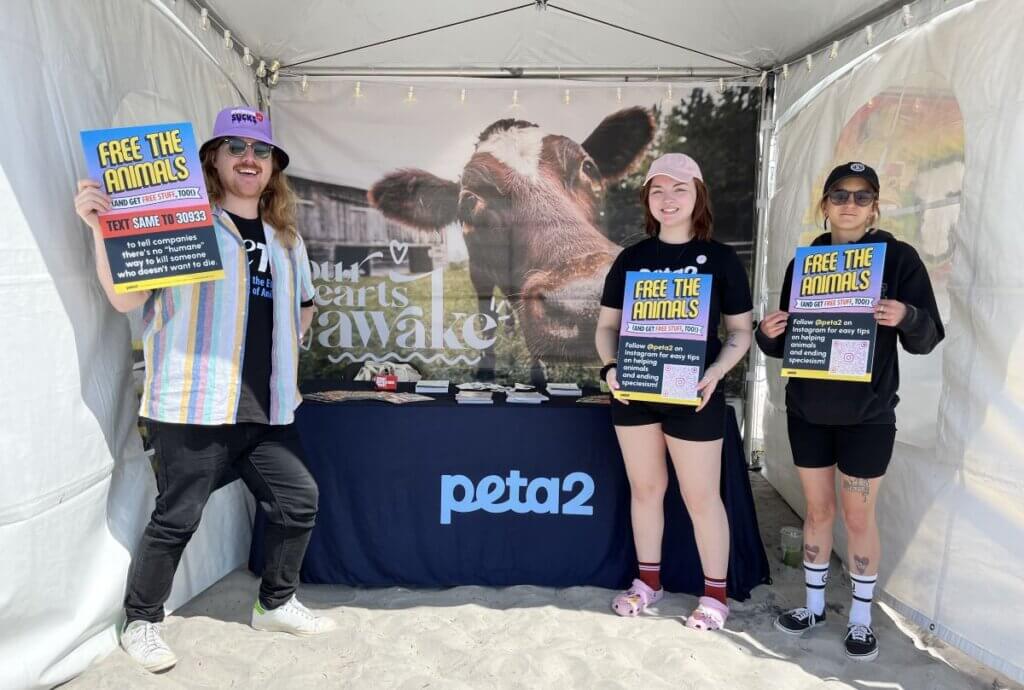 With performances by great bands like Blink-182 and Paramore (which both have vegan/vegetarian members, btw), Adjacent Festival was a blast. We educated the crowd on humane-washing practices at stores like Urban Outfitters, Whole Foods, and PetSmart. Many of the folks we talked to had already seen the TikTok vids of betta fish and other animals being found in PetSmart dumpsters, and they were stoked to take action and tell stores to stop selling animals. The weekend ended with an animal rescue—we helped a crab found by the tents make his way back to the ocean. 🦀🌊
So What?! Music Festival (June 24–25, Dallas, Texas)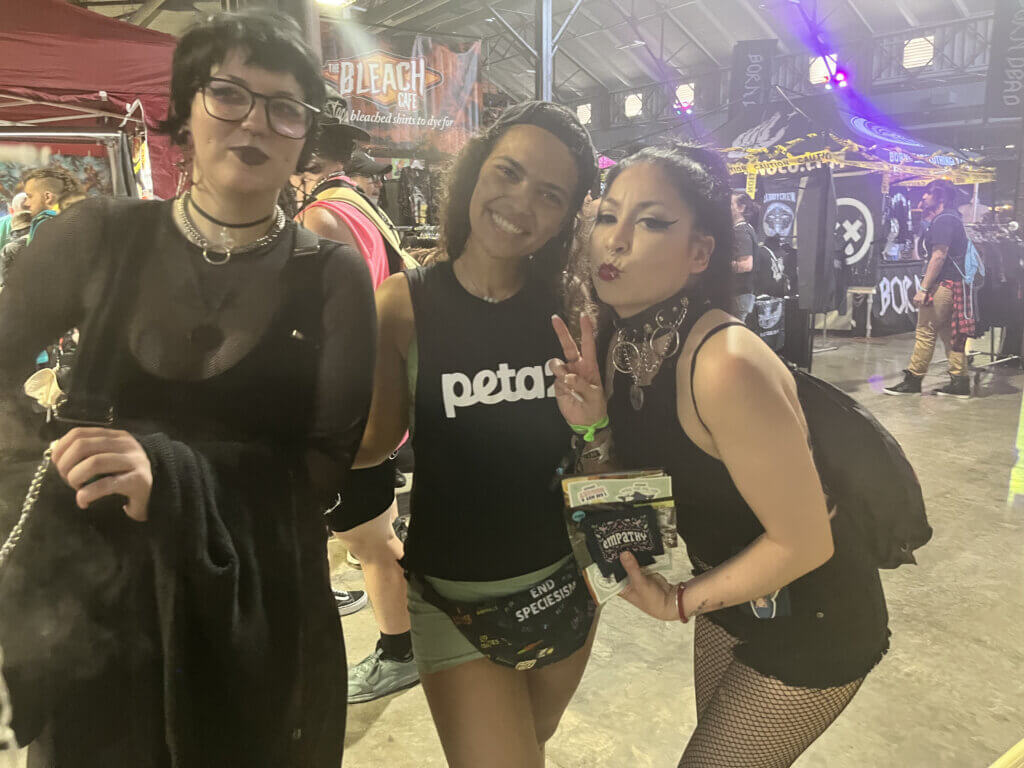 The music at So What?! Music Festival was as hot as the Texas temps. 🥵 When they weren't enjoying performances by Pierce the Veil, Neck Deep, and Jeleel, many audience members came by our tent and learned about the "Wear Your Own Skin" campaign. We handed out over 1,000 guides on how to wear vegan and ended up convincing even meat-eaters to take action for animals used for clothing. People also loved our cloth wristbands that doubled as hair ties, which made a huge difference in keeping everyone's hair out of their face during the Dallas heatwave.
Capitol Hill Block Party (July 21–23, Seattle, Washington)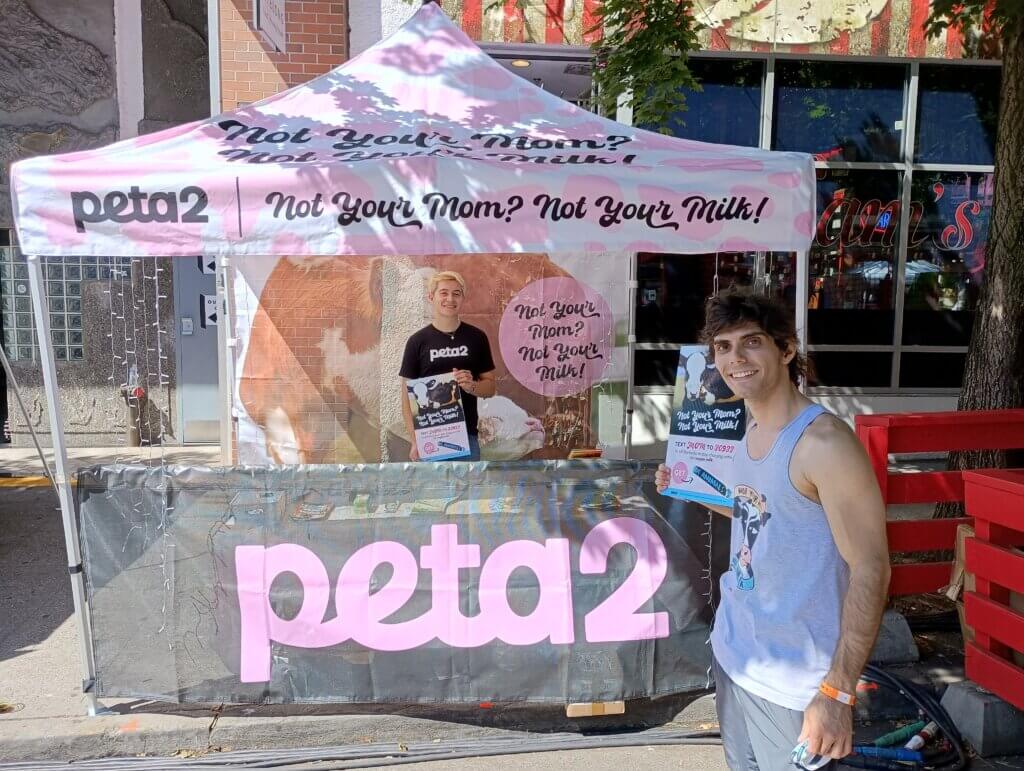 Ever ordered an oat milk latte from Starbucks and realized you were charged extra for getting vegan milk? 😒 It shouldn't cost more to make the kinder choice—that's why we got concertgoers at the Capitol Hill Block Party in Seattle on board with our "Not Your Mom? Not Your Milk!" campaign. You can help them hit the dairy industry where it hurts by telling Starbucks to drop the vegan milk upcharge.
Day In Day Out (August 12–13, Seattle, Washington)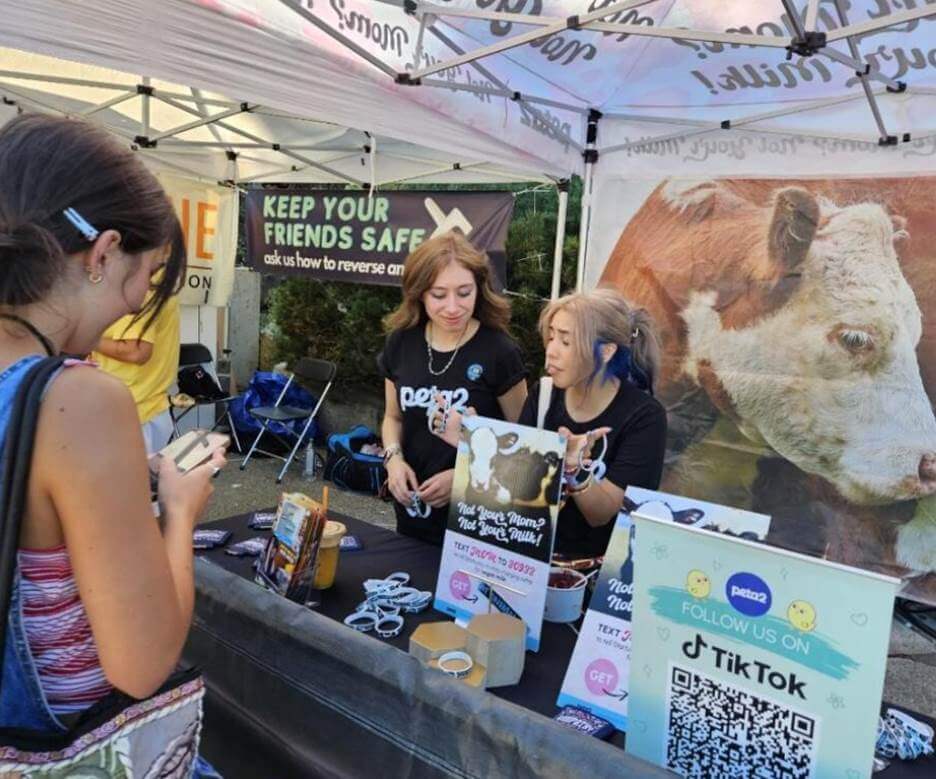 Between vibing to Bon Iver and Willow and mobilizing new animal advocates, this was a great weekend. 😎 We met lots of people who told us they could easily support "Not Your Mom? Not Your Milk!" to help animals and make vegan options more accessible at Starbucks. We even got support from actual Starbucks employees! 🤯 Talk about a strong campaign message.
Four Chord Music Fest (August 12–13, Washington, Pennsylvania)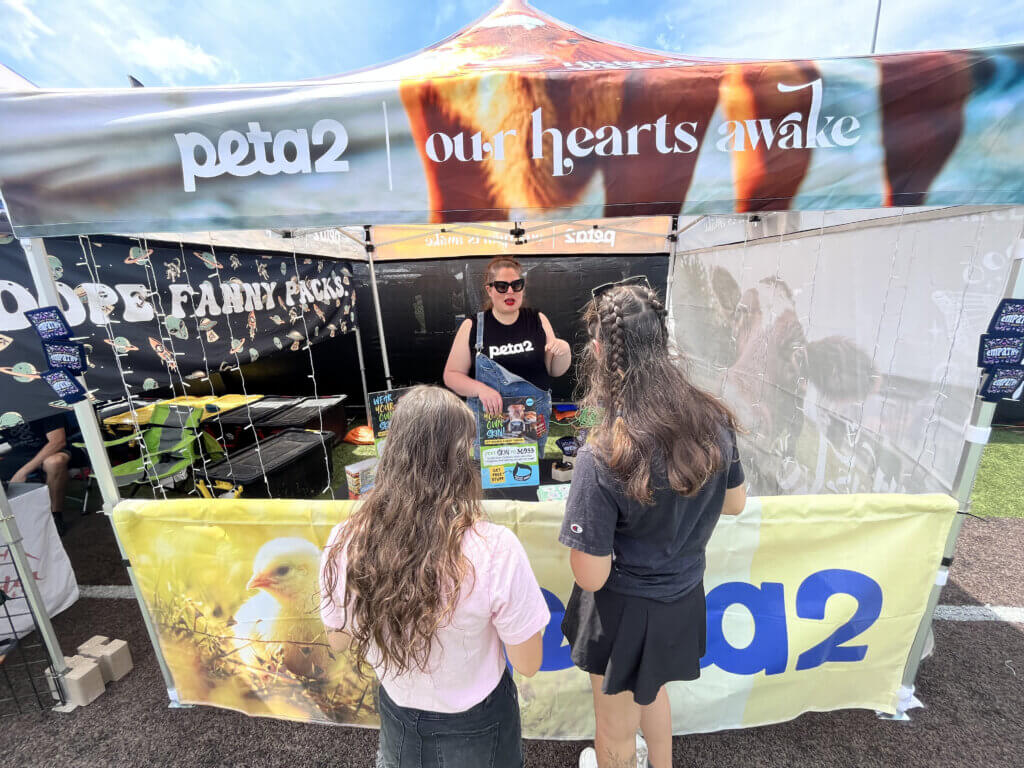 Four Chord Music Fest 2023 was one for the books. We motivated many in the 15,000-strong crowd to urge H&M to stick by its initial promise and ban mohair and cashmere products. The weather made some things tricky for this event—a literal tornado touched down nearby at one point. 🌪️ But once it was safe, we set back up and kept gaining new supporters. It turns out that not even tornadoes can stop determined animal activists. 💪
Riot Fest (September 15–17, Chicago, Illinois)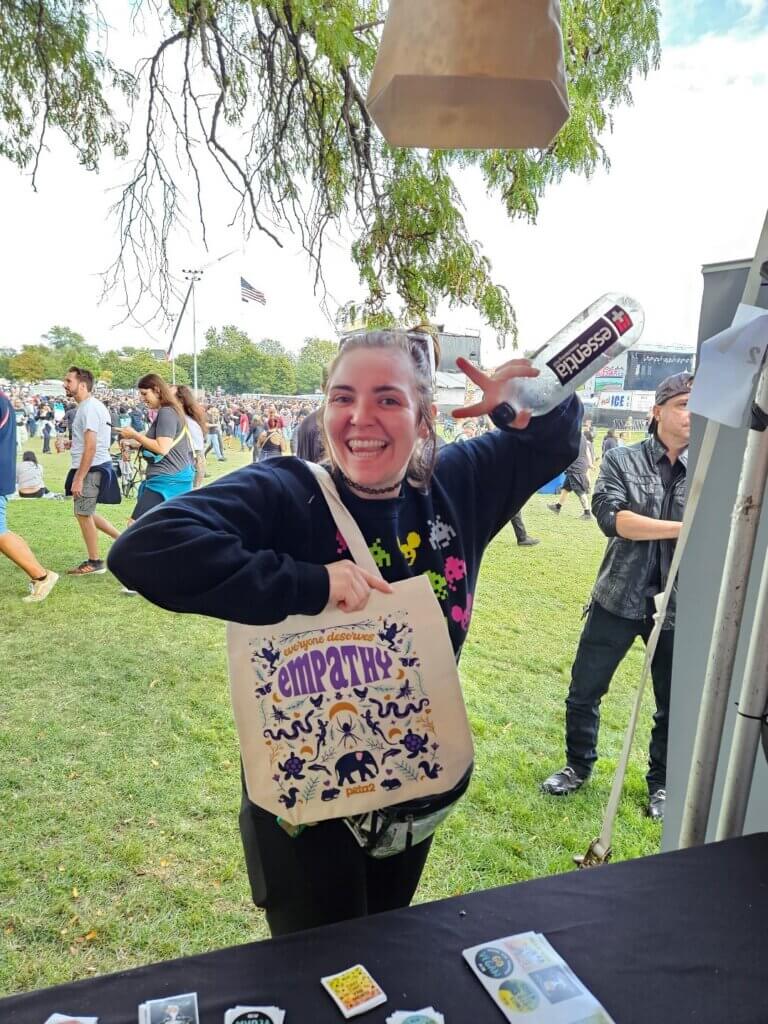 This was one of the hottest music events of the year—we're talking Foo Fighters, PUP, The Cure, Death cab for Cutie, and Turnstile at the same festival. 🔥 With 40,000 in attendance, we made some major gains on our "Not Your Mom? Not Your Milk!" campaign. Our stickers—especially "I Am Not a Nugget," "Milk Is Weird," and "Adopt! Don't Shop"—were super-popular, and many people agreed that it's ridiculous for Starbucks to charge extra for vegan milk.
All Things Go Music Festival (September 30–October 1, Columbia, Maryland)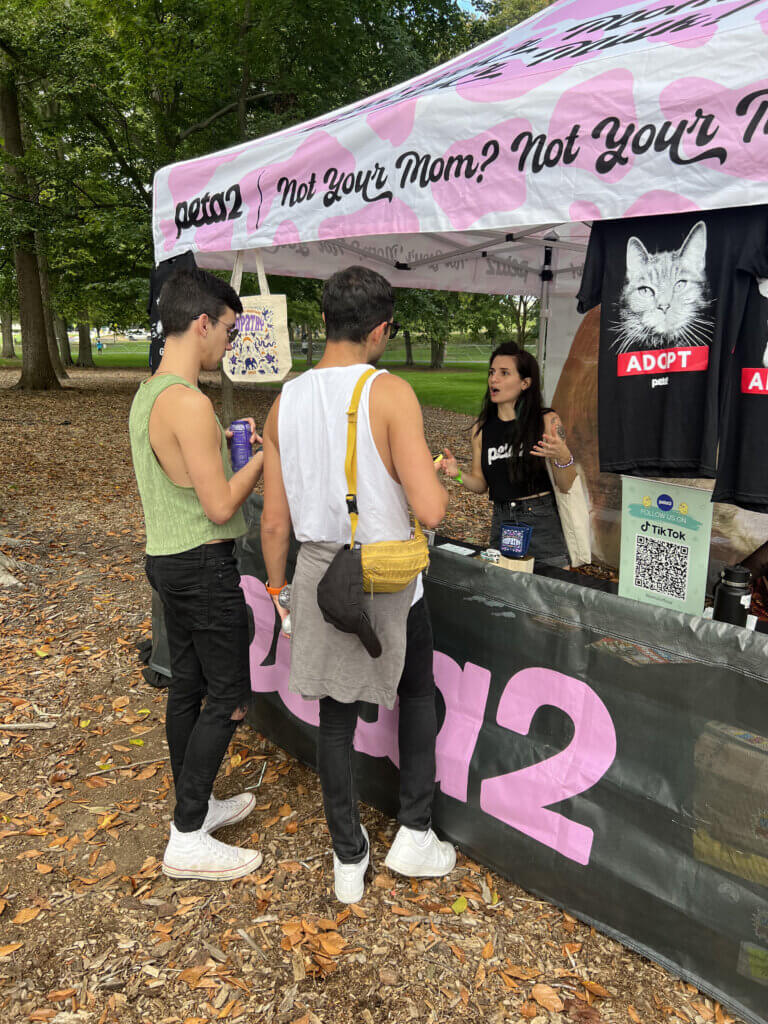 Nestled in the wooded grounds of Merriweather Post Pavilion, we got over 1,200 texts at the sold-out, women-led All Things Go Music Festival. 😲 The "Not Your Mom? Not Your Milk!" campaign was a huge hit there—between catching performances by Maggie Rogers, Lana Del Rey, Samia, and Meet Me @ the Altar, many in the crowd voiced their agreement that they shouldn't have to pay extra for nondairy drinks at Starbucks. Our "Everyone Deserves Empathy" tote bags were also in high demand—they sold out by Sunday.
Breakaway Festivals (August 18–19, Grand Rapids, Michigan; August 25–26, Columbus, Ohio; September 29–30, Concord, North Carolina; October 13–14, San Francisco, California)
At four Breakaway Festivals, attendees showed peace, love, unity, and respect for all animals by supporting our "Wear Your Own Skin" campaign. We handed out a bunch of "Wear Something, Not Someone" stickers and thousands of guides to help folks choose vegan clothing. Plus, nearly everyone was blown away by our SpiritHoods contest. SpiritHoods donated 100 items so that 100 winners could get free—and cozy—vegan clothing. 🥰
*****
Do you love going to festivals as much as we do? peta2 is hiring for a spring outreach crew to promote our campaigns and animal rights goals. If you want to literally get paid to spread animal rights energy at awesome music events, apply today! 🤩
Text
peta2

to

30933

for ways to help animals, tips on compassionate living, and more!

Terms for automated texts/calls from peta2: http://peta.vg/txt. Text STOP to end, HELP for more info. Msg/data rates may apply. U.S. only.