Make an Altar to Honor Animals Killed by Cruelty
Altars can be a beautiful way to honor those who have passed away. If you're Latinx, you might be familiar with this concept since many of our families keep home altars year-round.
Traditionally, altars include mementos and pictures of our relatives. Many people have also started to include their animal companions, because they're also family members. But what about other animals?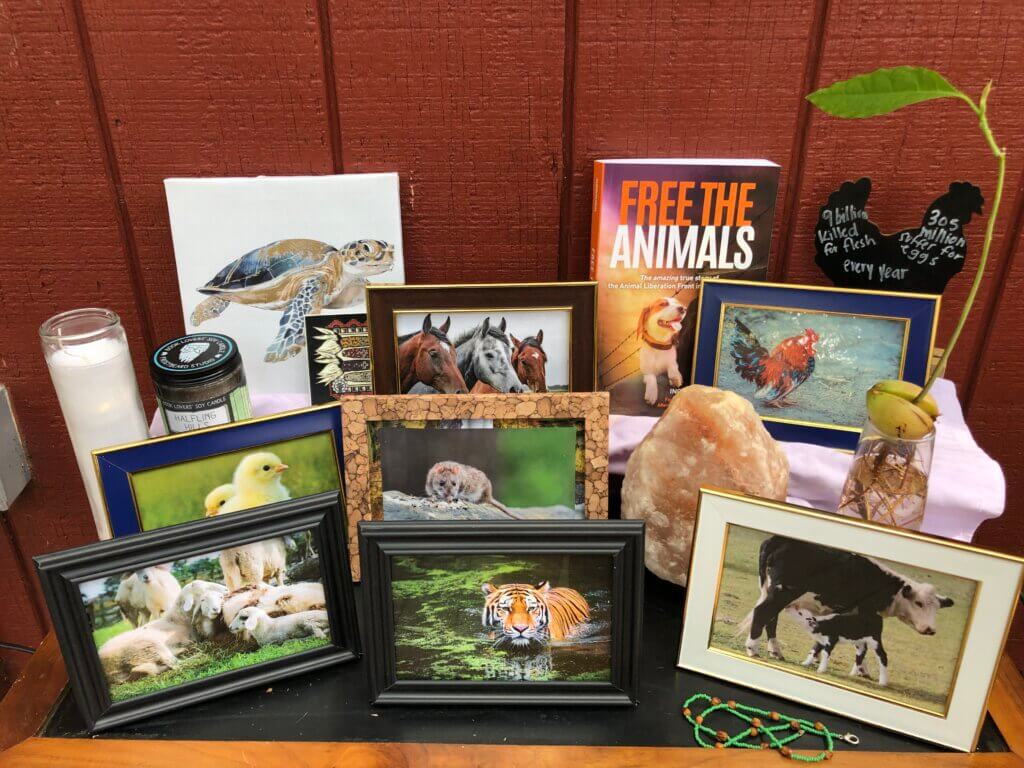 Challenging exploitative industries and taking up the fight for animal liberation can feel emotionally draining when you don't take time to breathe. Creating an altar can be a healing way to practice self-care and honor animals whose lives have been wrongfully taken.
For those who aren't familiar with this concept, we're going to walk you through the process of creating an altar to mourn the animals abused and killed by the experimentation, food, fashion, and entertainment industries.
Step 1: Set Your Intentions
Get a pen and paper to write about how you're feeling. Maybe even sit outside and connect with nature while contemplating your thoughts. 🌳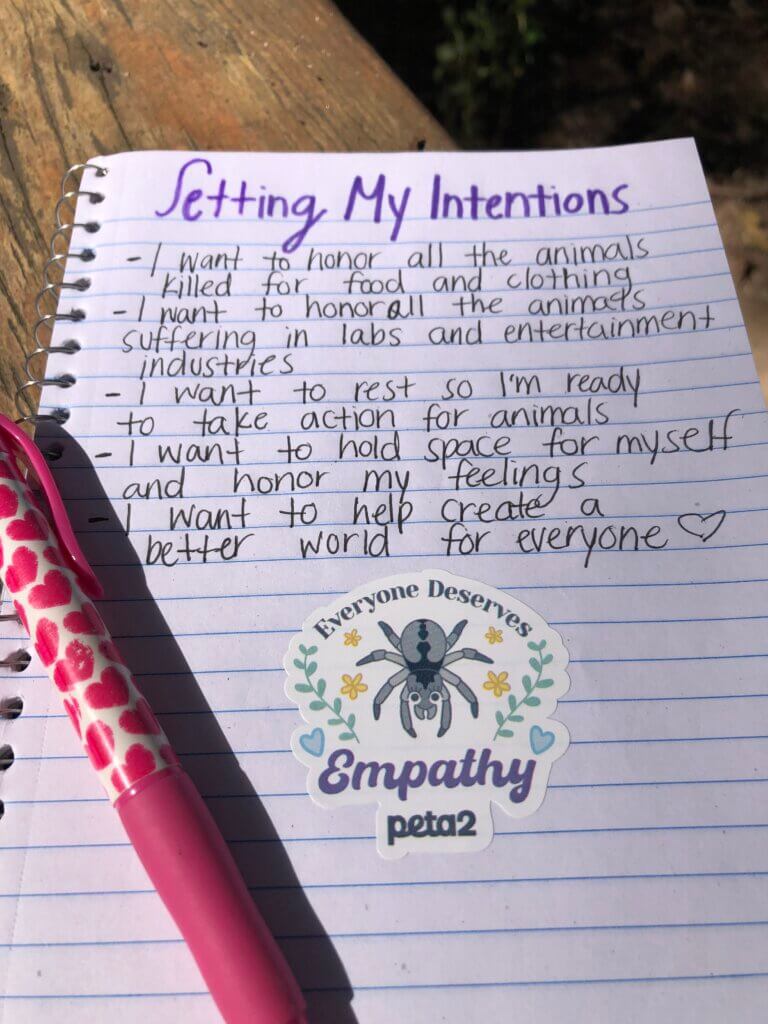 Establish your goals: Why do you want to create an altar for animals? Maybe you want to pay tribute to those who have suffered, or maybe you want to heal from the stress of slower-than-desirable progress in ending speciesism. Whatever your reasoning, make sure it's clear so you have a grounding thought to come back to when things feel a little too overwhelming.
Step 2: Choose a Space
Find a place in your home where there's room for a few trinkets. Here are a few ideas to consider when choosing this space:
The altar could sit by a window where it would be touched by sunlight or moonlight.
Having houseplants nearby is a nice way to cleanse the air around your altar naturally—just make sure they aren't toxic to your animal companions.
A dresser top can be an accessible display spot with easy storage, which could be useful for setting up and taking down the altar, especially if you'll be doing that often.
Creating an altar in a bedroom can inspire peaceful sleep and dreams of a better world.
Keeping the altar near the kitchen or the dining room serves as a good reminder of why meals should never contribute to killing. Enjoying healthy vegan foods nourishes the mind and body compassionately. 🌱
There are many other factors you could consider, but the important thing is to choose a place that resonates with you. ✨
Step 3: Arrange the Altar
Now for the decorating. 🕯️🖼️📿
Framed photos are the most common objects on altars. You could print out pictures of different animals or even draw or paint them yourself. 🎨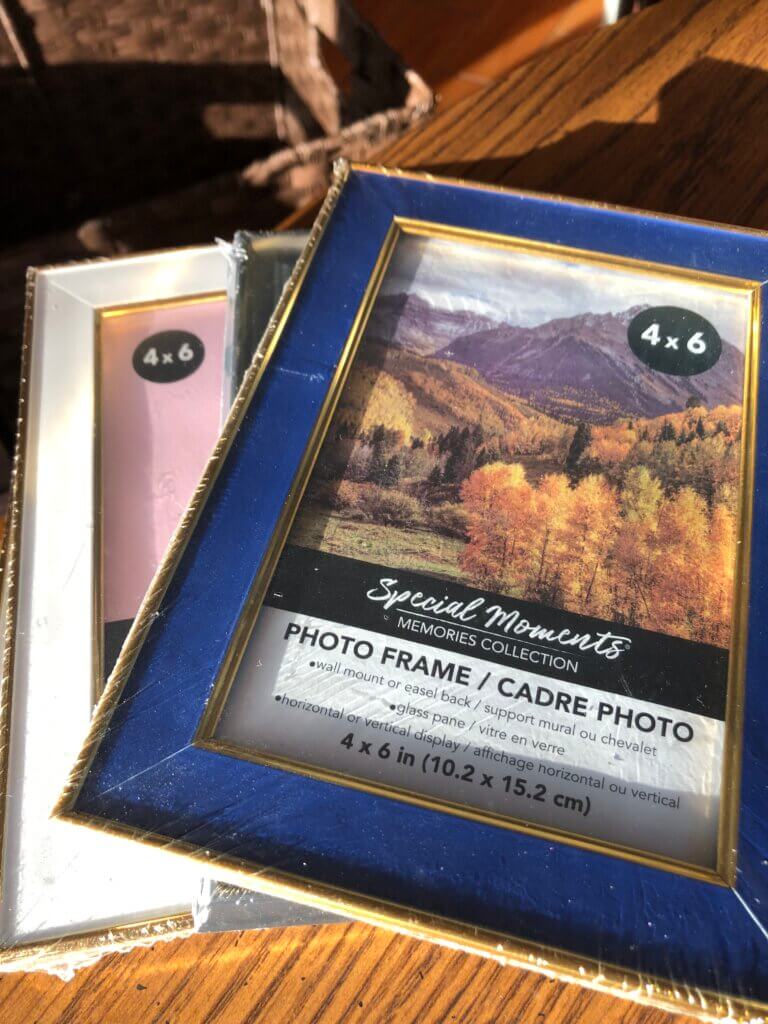 You could also include the following:
Artwork 🖌️
Incense 🌫️
Soy-based candles 🕯️
Books about animal rights 📚
Crystals 🔮
Seashells, rocks, pinecones, or acorns. 🐚🌰
Dried fruit 🥭
A singing bowl 🎵
A bell 🔔
Seeds and flowers 🌻
Articles from magazines or online posts about animals 📰
Animal figurines or plush animals 🧸
Your list of intentions 📜
Step 4: Create a Ritual
Creating a spiritual practice or routine—it doesn't have to be religious—can help you get into the mindset to mourn and heal. A ritual tells your brain, "We're shifting gears and focusing on this right now."
Pick one or two activities to do each time you sit at your altar:
Silence your phone 📱🔇
Light a candle 🕯️
Read a page from an animal rights book 📖
Sip a cup of tea 🍵
Turn the lights off 💡
Take three deep breaths 🧘🌬️
Say three things you're grateful for 🙏
Write down three recent animal rights victories 💯
Add to your intentions list 📝
Treat yourself to some vegan chocolate 🍫
Wear a cruelty-free face mask 🐇
Once you've figured out a routine you're comfortable with, you can also decide how often you partake in it. You might want to sit with your altar for five minutes every day, each Saturday morning, once a month, when the seasons change, or just as needed.
Step 5: Connect With the Deceased
Mourning the animals who have suffered and those who continue to suffer is an integral part of this process.
More than 110 million animals are killed each year in U.S. laboratories alone, and 95% of them are rats and mice. The remaining animals include close to 70,000 monkeys, more than 66,000 dogs, about 30,000 cats, and more than 240,000 rabbits.
Each year, about 100 million animals, including goats and ducks, are confined to filthy cages and killed for clothing.
Big numbers like these can be impersonal and easy to gloss over when they're just a stat on a screen. Thinking about the faces of individual suffering animals when you sit down at your altar or reciting an affirmation or prayer can be a powerful way to feel connected with those animals.
Many religions have traditional prayers for animals, and this could be a good opportunity to explore them. For those who aren't religious—and even for those who are—creating your own affirmation can be very powerful. Personally, whenever I see or hear something particularly heartbreaking, repeating, "May you be at peace and one with Mother Earth," helps me take a moment to process my feelings and honor the victims without carrying the burden all day.
Step 6: Manifest a Better World for the Living
Sometimes when we're feeling the weight of current issues, it can be hard to envision a better world. Let's remember to keep reminding ourselves and each other that a better world is possible! Close your eyes and imagine what that world would look like: a world where all animals, including humans, are treated with respect. Then write your manifestations down to bring them into the physical world. ✍️
When you're feeling ready for action again, we have plenty of tips for getting friends involved, from tabling at lunch to sharing stickers. You can check them out here.
*****
Creating a space in your home for honoring animals can help you stay grounded and feel connected to those you're working so hard to help. Taking time in this space is so important for gathering the strength to keep going. 💖
If you ever need advice, feel free to e-mail us anytime at [email protected].
Text
peta2

to

30933

for ways to help animals, tips on compassionate living, and more!

Terms for automated texts/calls from peta2: http://peta.vg/txt. Text STOP to end, HELP for more info. Msg/data rates may apply. U.S. only.