Actor Aubrey K. Miller Urges Students to Cut Out Animal Dissection
Like all animals, frogs deserve to live happily ever after. That's why actor Aubrey K. Miller is urging students to say no to dissecting them. In an adorable PETA campaign, the multitalented performer and lifelong vegan channels a princess with a heart of gold, posing alongside her web-footed Prince Charming.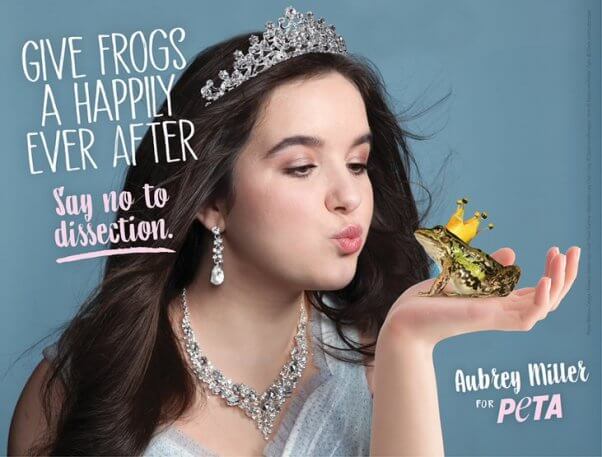 Audiences may recognize Aubrey from her roles in television series like Just Add Magic and Austin & Ally. She has also starred in other PETA campaigns, including a mouth-watering vegan tour of Disneyland during which she sampled some of the park's delicious animal-free treats.
"These frogs … are taken away from their natural habitats and taken away from their families. That is so cruel and so heartbreaking to even imagine that," Aubrey says in a video for PETA. She also debunks a common misconception regarding how the bodies of animals used for dissection are obtained, explaining, "These animals haven't died from natural causes—they are specifically killed for dissection."
Check out PETA's interactive map to see what your state's dissection-choice policy is.
Aubrey also encourages students to start a "movement of kindness" at their schools by talking to their friends and teachers about virtual-dissection options, which don't involve cutting open dead animals.
"Kindness is more powerful than anything, so that can overcome any hurdles that you have," she says.
From sophisticated computer software to accessible apps, there are more humane, non-animal teaching methods available to students than ever before. Not only do these modern solutions teach them about anatomy and complex biological processes as well as—or better than—archaic animal labs, they also instill in them a respect for animals' lives.
What You Can Do
Pledge to stand up for animals by saying no to dissecting them!
Text
peta2

to

30933

for ways to help animals, tips on compassionate living, and more!

Terms for automated texts/calls from peta2: http://peta.vg/txt. Text STOP to end, HELP for more info. Msg/data rates may apply. U.S. only.