Danai Gurira of 'Black Panther' Says: NEVER Leave Your Dog in a Hot Car
We couldn't take our eyes off Danai Gurira in her roles as Okoye in the Black Panther series and Michonne on The Walking Dead. 👀 Now, she's giving us one more reason to love her. Gurira and her dog, Papi, star in a powerful print ad urging us to NEVER leave our dogs in a car on a hot day—or even on a warm day. 🐶❤️
This ad totally understood the assignment. It has a strong yet simple message to remember: "If you love them, don't leave them." We all love our dogs, right? The absolute last thing we'd want is to cause them harm, which is why we should all take Gurira and Papi's advice and never leave our animal companions in a hot car.
How Dangerous Are Hot Cars?
A gorg 70-degree day may be 👌 outdoor weather, but a parked car's interior temp can soar to 99 degrees in 20 minutes. On a 90-degree day, the interior temp can skyrocket to a sweltering 109 degrees in just 10 minutes, making the car a death trap. 🥵
Animals can sustain brain damage or die from heatstroke in just minutes, and dogs have an extra-tough time in hot temps because they mainly cool themselves by panting.
Gurira's ad sums it all up in one critical warning: "Hot cars are fatal for dogs!"
What if I See a Dog in a Car?
Now you know to never leave your dog in a hot car—even if you're running a quick errand. But what do you do if you see a dog left alone in someone else's car? The most important thing to remember is that this is a matter of life and death—the dog could die if no one does anything. 😰
So jot down the car's deets, including its color, make, model, and license plate number. Get someone from nearby buildings to page the owner or call local humane authorities or the police. Make sure that someone's always keeping an eye on the dog, and don't leave the scene until everything's under control.
What if Authorities Are Slow or Don't Respond?
If authorities still haven't arrived and it looks like the dog's life is in serious danger, it's time to take matters into your own hands. 💪 This is important: Find a witness (or several) who can back up your decision to take drastic action, take steps to remove the suffering animal, and then wait for authorities to arrive.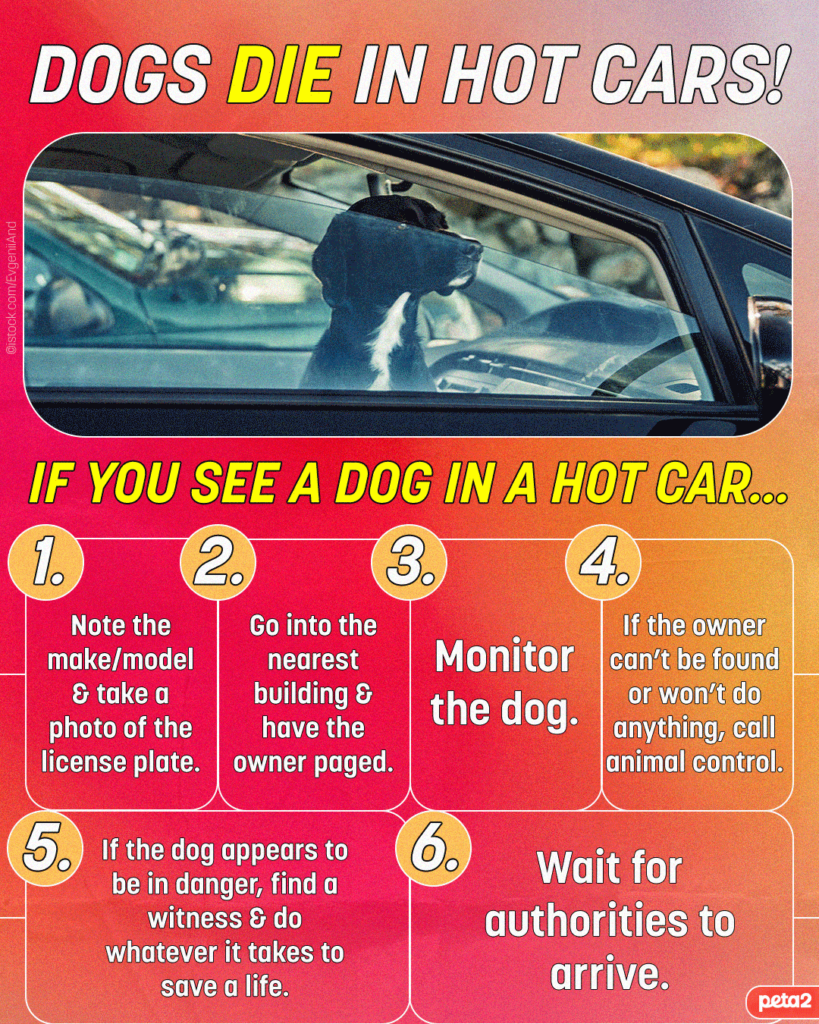 In Gurira's ad, she's taking action and being a real-life superhero for animals. You and your witnesses can explain the situation to the authorities. The owner of the car can get a new window, but a dead dog can't be brought back to life. Fax.
*****
Gurira is a top-tier actor, and we're so glad she's also a top-tier animal advocate. 🤩 She and Papi can save countless lives with this striking ad by reminding humans that hot cars are death traps for dogs. To learn more about what to do in a hot-car emergency—like which heatstroke symptoms to watch for and how to help the dog once they're out of the vehicle—head over to our in-depth feature:
Text
peta2

to

30933

for ways to help animals, tips on compassionate living, and more!

Terms for automated texts/calls from peta2: http://peta.vg/txt. Text STOP to end, HELP for more info. Msg/data rates may apply. U.S. only.