See How This Teen Is Saving Wildlife by Cleaning Up the Desert
Christian Daniels, 17, is a high school student dedicated to preserving the Nevada desert that he and other animal species, including birds, desert tortoises, and bighorn sheep, call home.
Christian, who has a passion for wildlife and nature, spends several weekends each month hiking the desert with his dad, Bill, or his 18-year-old brother, Hayden, in search of balloon litter and other trash. When asked why this effort is important to him, Christian told us, "I love hiking and watching wildlife, but on every hike I noticed shiny Mylar balloons. Once I learned that desert tortoises mistake them for wildflowers, I just had to start picking them up."
Balloon litter has become a rampant problem in the Nevada desert, where rabbits, birds, lizards, tortoises, bighorn sheep, and other wildlife may mistake the balloons for food or become tangled in their strings. 💔
"Our tortoises have enough challenges with urban sprawl, solar projects, and drought. I wanted to eliminate the threat of Mylar balloons, so I started the Desert Balloon Project to educate the public on the dangers of releasing Mylar balloons to our native wildlife."
Christian started the Desert Balloon Project to raise awareness of the deadly consequences of balloon releases. "To date, I've hiked over 900 miles and picked up over 3,000 balloons," he says.
For Christian's dedication to taking compassionate action to protect wildlife, peta2 is presenting him with our Hero to Animals Award.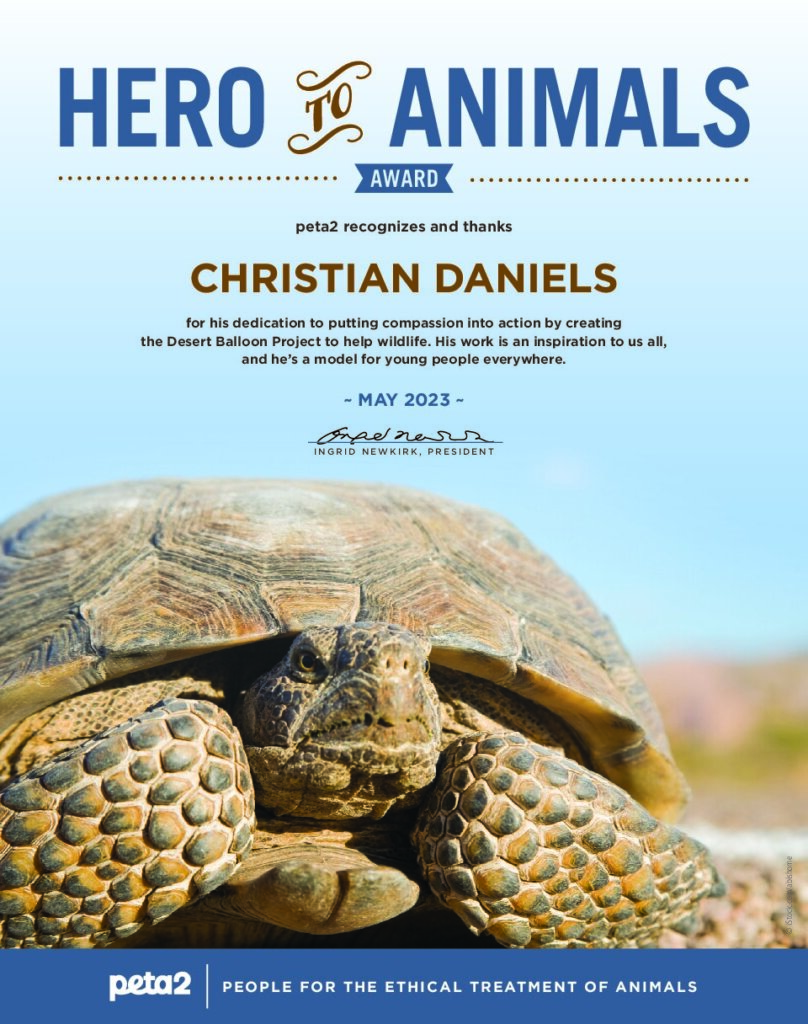 "I've learned that all kinds of species can mistake Mylar balloons for a food source. I noticed that even in the summer, degrading balloons can hold water. I believe that animals can smell that water from far away and are attracted to the balloons for an easy source [of drinking water]. When ingesting that water, they can mistakenly ingest the balloon. I've also seen balloon strings wrapped around birds, desert bighorn sheep, and deer."
When asked what advice he would give other young people who want to get active for animals in their community or in nature, he says, "Social media makes reaching people so easy, inexpensive, and fast. If [you] are passionate about an animal cause, just start posting about it. Passion is contagious, and your cause will be picked up by others and there are no limits to what can be accomplished." We couldn't agree more, Christian!
Here's How You Can Be a Hero to Animals, Too
Anyone can take a note out of Christian's book by organizing cleanups or "trash-fishing" excursions in their own communities. 🗑️
"I knew I couldn't pick them all up, so I started the [Desert Balloon Project] to educate the public about the dangers of releasing balloons and enlist the help of others to pick balloons up when they are out enjoying our world. So far it's working far beyond what I ever hoped."
Christian hopes to see more young people join the Desert Balloon Project, saying, "The great people that follow me on social media are all out there doing it, too! I love when people send me pics or say that they stopped a balloon release. I get e-mails all the time where people tell me they had no idea that balloons can harm animals and they stopped buying them altogether."
Keep up the amazing work, Christian! Animals and the planet are lucky to have you on their side. 🌎🐢
Text
peta2

to

30933

for ways to help animals, tips on compassionate living, and more!

Terms for automated texts/calls from peta2: http://peta.vg/txt. Text STOP to end, HELP for more info. Msg/data rates may apply. U.S. only.