Influencer Teala Dunn Empowers Students to Say 'No' to Animal Dissection
Influencer Teala Dunn is urging students to leap in the right direction and just say "no" to dissection, which uses millions of animals every year. In a PETA video, she encourages students to know their rights and use their powerful voices to speak up for animals.
"A lot of people do not know that you can say no when it comes to dissecting animals in schools," Dunn says in the video. "So please speak up. Say no. It's disgusting. Save an animal's life. It ain't cute."
In addition to creating captivating content for her nearly 1 million YouTube fans, Dunn has also worked as an actor, with a lead role in the TBS sitcom Are We There Yet? and voiceover work for the popular children's show Wonder Pets!
Many students may not realize that they can opt to use humane, lifesaving tools instead of engaging in cruel dissection, since many states and school districts in the U.S. and Canada have a dissection-choice law or policy that requires teachers to provide students with a modern tool if asked. Dunn shares information about effective, educationally superior options, empowering students to learn through tablets and apps instead of cruelty and killing.
"I think it's so important to just know that animals are just absolutely incredible," says Dunn. "And frogs are so adorable. They have families, too. They have feelings. Save a frog. Please."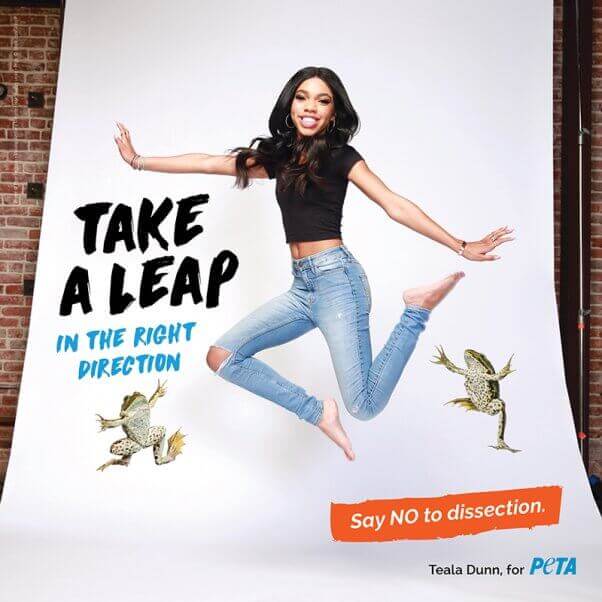 Check out PETA's interactive map to see what your state's policy on classroom dissection is.
Animals aren't the only victims of the dissection supply industry—it also harms humans by exposing students and teachers to formaldehyde, a carcinogen that's listed on California's Prop 65 list of chemicals that can cause birth defects and respiratory issues.
Studies show that forcing students—more than half of whom oppose animal testing—to dissect animals can traumatize them, foster insensitivity toward animals, and even dissuade some from pursuing careers in science.
Text
peta2

to

30933

for ways to help animals, tips on compassionate living, and more!

Terms for automated texts/calls from peta2: http://peta.vg/txt. Text STOP to end, HELP for more info. Msg/data rates may apply. U.S. only.