Jhené Aiko Channels Her Inner Catwoman
"I think cats are super-smooth with everything they do," Jhené Aiko told peta2 on set back in 2014. She went on to say, "Ever since I was younger, I had this connection with cats." Cuddling up to a furry costar is all in a day's work for the R&B beauty, who sneakily took the music world by storm.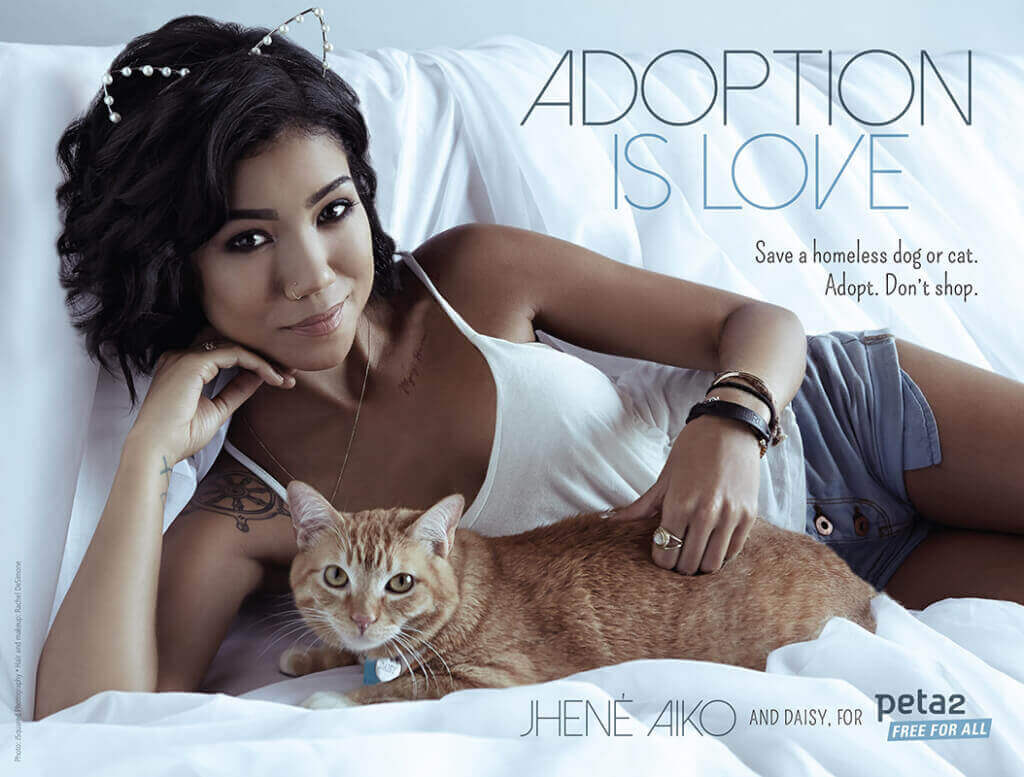 An estimated 70 million homeless dogs and cats are struggling to survive in the U.S., and when someone decides to buy an animal from a breeder, a pet store, or anywhere else, they contribute to the homeless-animal crisis. If you're ready for the commitment of welcoming a new feline or canine family member into your home, the only responsible way to go about it is to adopt from a reputable shelter.
Adopting an animal from a shelter instead of buying one is a great way to give a cat or dog a stable, loving home without supporting pet stores, which have proved time and time again to be little shops of horror for animals.
"It's important to adopt rather than buy, because there's so many animals in the shelters that need homes. I just feel like it's better to give those animals a second chance."

Jhené Aiko
Follow in Jhené's footsteps by showing some love to cats (or dogs). Adopt animal companions—don't buy them.
Text
peta2

to

30933

for ways to help animals, tips on compassionate living, and more!

Terms for automated texts/calls from peta2: http://peta.vg/txt. Text STOP to end, HELP for more info. Msg/data rates may apply. U.S. only.