Lil Bub Encouraged Adoption and Spaying or Neutering!
Lil Bub took the internet by storm and became a celebrity, becoming a published author and starring in a documentary. She passed away in 2019 but continues to inspire us as we look back on her time advocating for adoption and sterilization.
We're so thankful that Lil Bub's caregiver knew the importance of adoption, because if he hadn't, we wouldn't have been able to share this adorable public service announcement that the cat starred in back in the day, urging folks to adopt and have animal companions spayed or neutered. Check it out: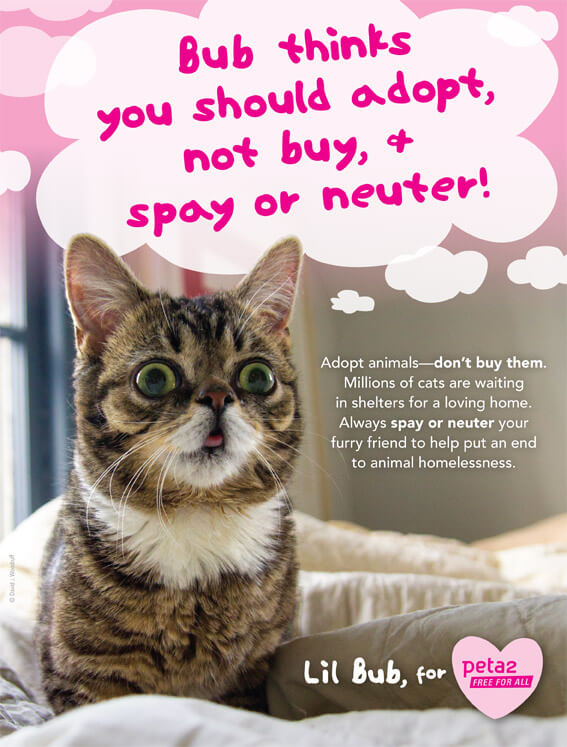 Join the Campaign to End Animal Homelessness!
Lil Bub was a super-special, one-of-a-kind cat. She began her life homeless. Her mom was a stray, and Lil Bub was born a runt. She was lucky enough to end up at an animal shelter, and then she spent time with foster families who had a hard time finding her a home. Then, like magic, along came her "dude" to adopt her and have her spayed, and the rest is internet meme history.
The companion animal overpopulation crisis is serious, and not all cats are as lucky as Lil Bub was. Every year in the U.S., more than 6 million lost, abandoned, or unwanted cats, dogs, rabbits, and others enter animal shelters, where roughly half will be euthanized simply because of a lack of worthy adoptive homes. Lil Bub knew the solution to the problem:
ALWAYS ADOPT, AND ALWAYS SPAY OR NEUTER!
You can make a difference in an animal's life. If you have the means to do so, adopt one from a shelter and help end the companion animal overpopulation crisis by having them spayed or neutered.
Text
peta2

to

30933

for ways to help animals, tips on compassionate living, and more!

Terms for automated texts/calls from peta2: http://peta.vg/txt. Text STOP to end, HELP for more info. Msg/data rates may apply. U.S. only.