Did You Visit Our Animal Rights Experience on Roblox?
PETA Kids had an awesome virtual animal rights experience on Roblox, one of the fastest-growing online game platforms! Over 100,000 Roblox players visited our headquarters (HQ) treehouse rescue center in Seaboard City.
As they explored the city, they could interact with animals—like rabbits, dogs, and even elephants—to learn more about each species and find out how to help them. After meeting an animal, players brought them back to the rescue center at PETA Kids' HQ to ensure their safety. They could also earn a badge by saving animals and discovering fun facts! Did you know that baby elephants suck their trunks like baby humans suck their thumbs? And that rats giggle when they're tickled? 😍
Animals have their own thoughts, interests, and feelings, and we should treat them with the respect they deserve. Our interactive experience in Seaboard City helped players learn how to be compassionate to all animals, while having fun gaming. 🎮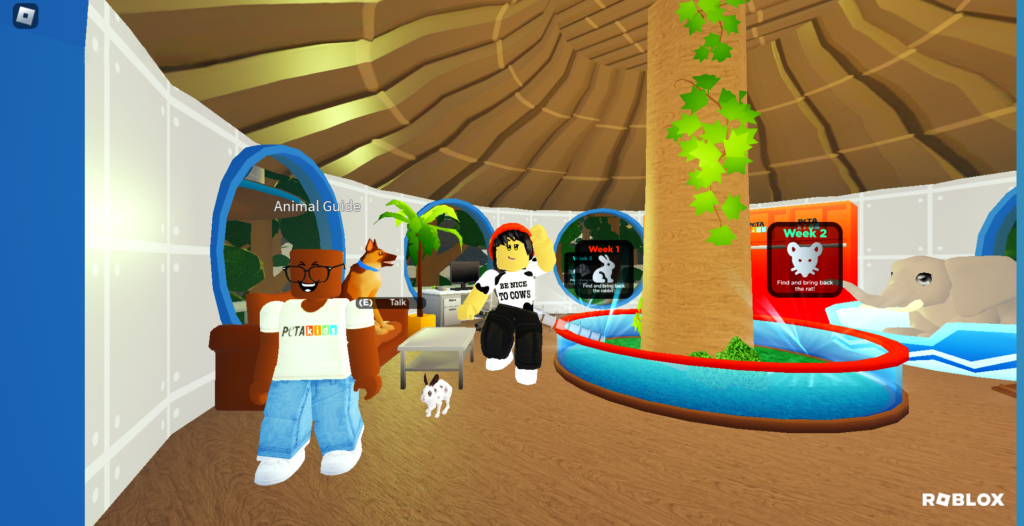 This experience is no longer available, but the fun doesn't have to end! There are so many more animal-friendly games you can play on your phone or computer. PETA Kids also has a Roblox group for kids 12 and under, so if you know any kids who want to learn more fun facts and animal-friendly tips, tell them about our group. 😊
Text
peta2

to

30933

for ways to help animals, tips on compassionate living, and more!

Terms for automated texts/calls from peta2: http://peta.vg/txt. Text STOP to end, HELP for more info. Msg/data rates may apply. U.S. only.