Mission: Mail Leather Patches Back to Levi's HQ!
Levi's still uses cows' skin for the patches on some of its jeans!
Send the company the message that cows deserve to live free from harm and don't want to endure confinement, extreme crowding, disease, and food and water deprivation—all before they're skinned for leather, many while still conscious.
Animals aren't ours to use for clothing, and Levi's shouldn't be making money by supporting the cruel leather industry, which rakes in over $100 billion a year and is a leading contributor to the climate catastrophe.
Do you own a pair of Levi's jeans with a leather patch? Follow the four steps below to urge the company to spare cows by using only vegan patches like the ones it already uses on some of its jeans.
1. Remove the patch from your jeans by using scissors or a seam ripper to cut the thread holding it in place. For easy removal, bend the fabric of the jeans down from the patch to expose the stitches as much as possible before cutting.
2. Write a note politely urging Levi's to stop putting leather patches on jeans, and address an envelope to the company's headquarters:
Levi Strauss & Co.
1155 Battery St.
San Francisco, CA 94111
3. Snap a picture of your note and the patch, then mail them to the company.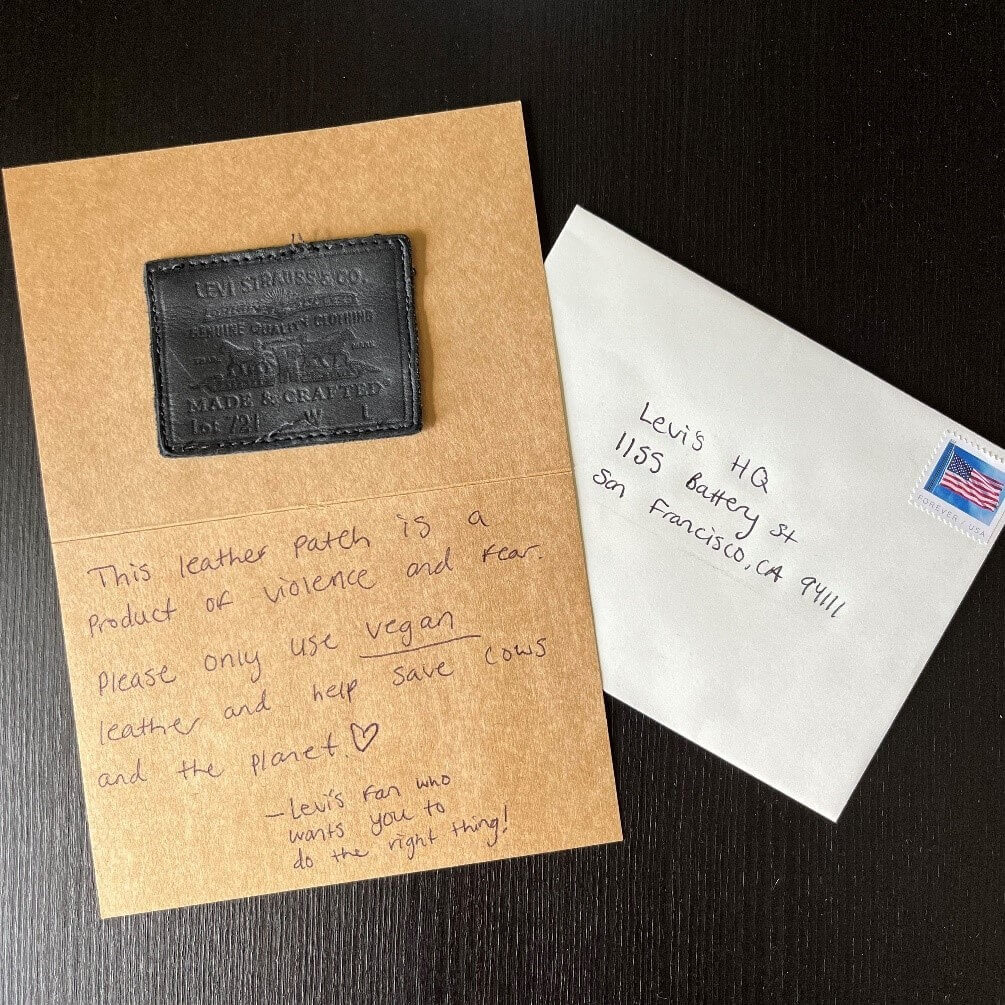 4. Complete this mission by signing into your peta2 Rewards account and submitting a picture of your letter to Levi's below to earn 25 peta2 points.
Text
peta2

to

30933

for ways to help animals, tips on compassionate living, and more!

Terms for automated texts/calls from peta2: http://peta.vg/txt. Text STOP to end, HELP for more info. Msg/data rates may apply. U.S. only.