How to Help a 'Backyard Dog' in Your Neighborhood
You might know of a dog in your area who's chained or penned in a yard 24/7. Many of these dogs will never know what it's like to go for a walk around the neighborhood, discover new smells, or sleep indoors with their humans. Their lives are sad and lonely, but unfortunately, it's not always against the law to treat dogs this way.
The situation isn't hopeless, though—there are ways you can help "backyard dogs" in your community and bring some joy into their lives. Your actions can make a world of difference for them! Here's what to do:
First, find out whether chaining is illegal in your area. Many counties and cities have laws regarding chained or penned dogs. See this list of such places, or look up your local laws on Municode.com to see what's allowed in your area. If the dog is chained in an area where this is illegal, call the police or animal control.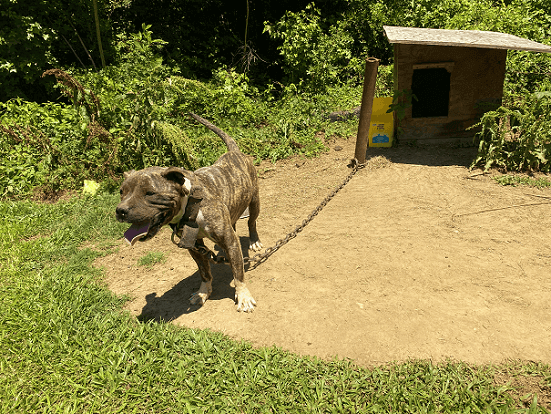 If your community doesn't have such a rule, owners are still required by law to provide "backyard dogs" with the following things:
Shelter (such as a doghouse that protects them from the sun, rain, and cold)
Nutritious food (and enough of it)
Constant access to clean water
Regular veterinary care and immediate veterinary attention if they're showing symptoms of illness or injury
If you notice that the dog is in imminent danger—for example, if the animal is very thin, is obviously ill or injured, has severely matted fur, has no water or shelter, or cannot access it—notify animal control or the police immediately. If neither responds quickly, call PETA—anytime, day or night—at 757-622-7382.
If the chained dog isn't in an emergency situation, your best chance at improving their life is to befriend the owner.
If you've checked the laws and found out that the dog's owner isn't doing anything illegal and the animal isn't showing signs of needing emergency care, there are still things you can do to help ease their loneliness.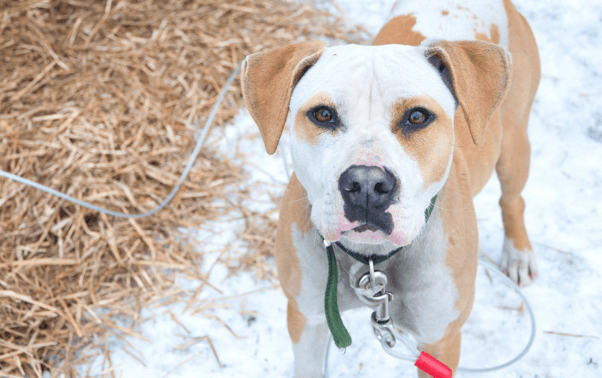 It might sound intimidating, but your best chance at helping the dog is by politely talking to the owner and getting permission to care for the animal. Keep the following tips in mind:
Be kind and friendly.
With the owner's approval, offer the dog some toys and treats.
If the dog isn't aggressive, ask for permission to take them for walks.
Visit regularly, but be careful not to become a nuisance. Follow your instincts based on the owner's response to your involvement.
If needed, offer help with grooming, such as nail trimming, or if grooming would require a veterinary visit, offer to help arrange an appointment.
With the owner's approval, fill the doghouse with straw (available at feed stores) during cold or wet weather. Straw can help insulate the doghouse, making cold temperatures a little more bearable—and help keep it dry, unlike blankets and towels, which can get wet and freeze.
Without being confrontational, talk to the owner about dogs' needs.
Watch out for your own safety. Have your conversations with the owner outside and in daylight only. Use the buddy system—bring a friend or parent with you.
It's possible that the owner might eventually offer to give the dog to you. If you're offered or given a "backyard dog," even if you can't give them a permanent home, graciously accept the offer and take the dog to an animal shelter for a chance at adoption into a good home. If you decide to look for a home for the dog yourself, be sure to follow the important guidelines here to try to prevent the animal from going from a bad situation into an even worse one.
It's up to us to look out for companion animals! Small gestures from you can make a world of difference to a chained dog.
Text
peta2

to

30933

for ways to help animals, tips on compassionate living, and more!

Terms for automated texts/calls from peta2: http://peta.vg/txt. Text STOP to end, HELP for more info. Msg/data rates may apply. U.S. only.