Vegan Slurpees and CF Cosmetics? 7-Eleven's Makeup Brand Is 'PETA-Approved'!
Its motto is "Because you're never too busy for beauty," but the 7-Eleven cosmetics brand Simply Me Beauty also proves that you're never too busy to be cruelty-free.
We were happy with vegan slurpees, but 7-Eleven is literally turning into a one-stop shop. Simply Me Beauty offers things that are perfect for when you're having a makeup malfunction: a nail buffer, nail polish remover wipes, and concealer.
The line also has products that could become part of your everyday routine—gorgeous eye shadow palettes, blushes, a duo bronzer, a highlighter, eyebrow powder, BB cream, false eyelashes, and more. You'd never guess that they came from a convenience store!
Everything in the line costs less than $5 and can be found in their "Gorgeous on the Go" displays.
Simply Me Beauty has joined thousands of other cruelty-free brands in taking a stand against animal tests by not allowing them for any of its products and ingredients and refusing to sell items in places where testing is required.
Unfortunately, some companies put profits ahead of morals and continue to pay for testing on animals. Experimenters poison and kill animals by force-feeding them massive amounts of test substances, which they also drip into their sensitive eyes and rub onto their shaved skin. This is all so that the companies can make more money by selling products in China, where animal tests for cosmetics are required. Tests on animals for cosmetics are not required in the United States and have even been banned in much of the world, including in the European Union, India, Israel, New Zealand, Norway, Switzerland, and Turkey.
How to Know That a Product Is Cruelty-Free
The best way to know whether a brand tests its products on animals is by checking our searchable database of cruelty-free companies. It lists more than 3,000 compassionate businesses, including NYX, The Body Shop, Paul Mitchell Systems, wet n wild, and many more. Always support cruelty-free companies, and refuse to buy from those that conduct or allow tests on animals.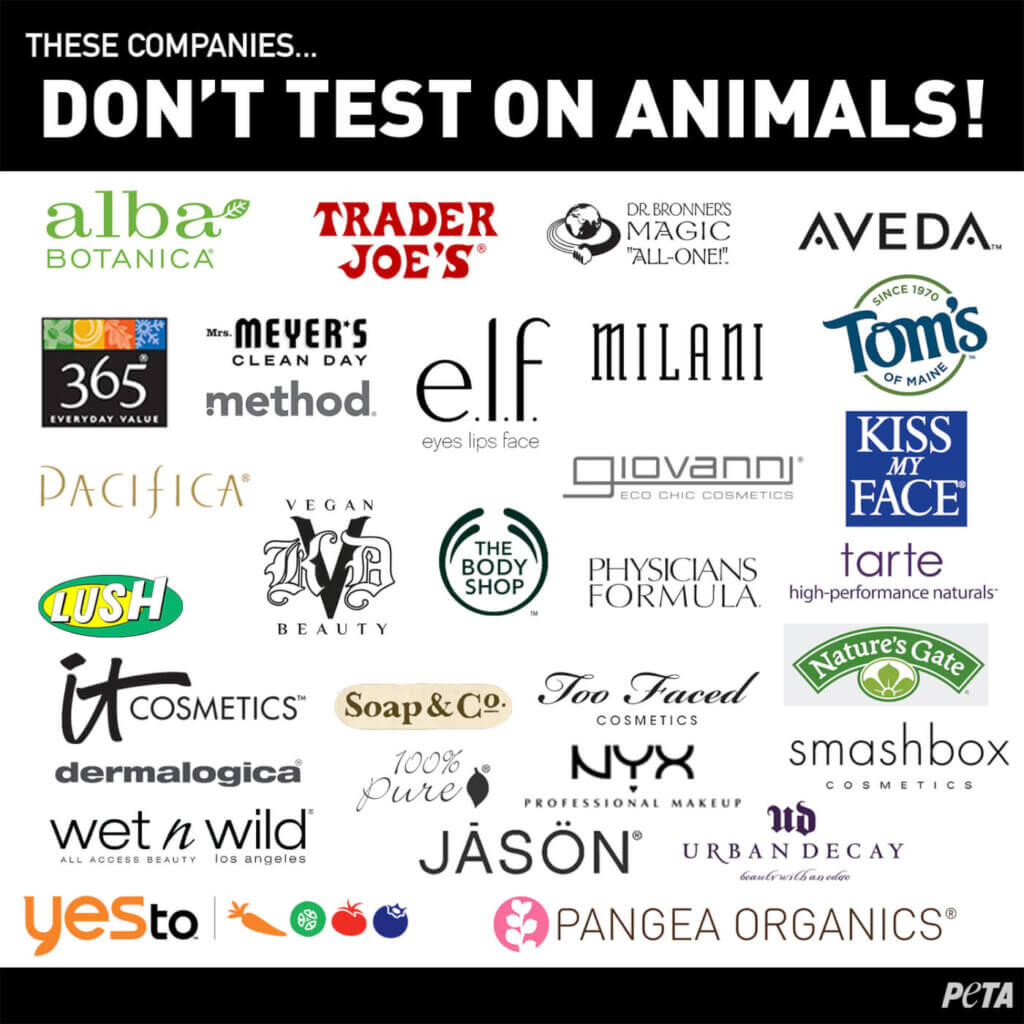 Click here to learn more about vegan and cruelty-free beauty brands.
Text
peta2

to

30933

for ways to help animals, tips on compassionate living, and more!

Terms for automated texts/calls from peta2: http://peta.vg/txt. Text STOP to end, HELP for more info. Msg/data rates may apply. U.S. only.