Cruelty-Free Cleaning Supplies at Target
When we make the switch to cruelty-free products, we usually swap out our mascara and deodorant, but many of us forget that other products in our home may have been tested on animals, too. (Think dish soap, laundry detergent, glass cleaner, etc. Ugh.)
The good news is that finding cruelty-free home-cleaning products is easier than ever before. In fact, good ol' Target carries many brands that offer a wide variety of products that aren't tested on animals, so you can keep your home cruelty-free. Check it out:
Dr. Bronner's
18-in-1 Hemp Tea Tree Pure-Castile Soap
Method Products
Method also carries its Glass Cleaner, a Heavy Duty Degreaser, and a Squirt + Mop Hard Floor Cleaner.
Mrs. Meyer's Clean Day
Multi-Surface Everyday Cleaner
Seventh Generation
Seventh Generation carries loads more products, including its Disinfecting Multi-Surface Cleaner, Glass Cleaner, and Disinfecting Bathroom Cleaner.
What Else?
When in doubt as to whether or not a company is cruelty-free, look it up in our database of companies that do and that don't test on animals. You can also search for it on our Bunny Free App.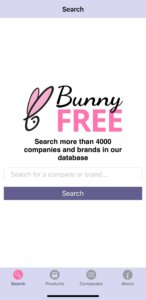 You can help animals who are suffering in experiments by letting companies that still test on animals know that you won't buy their products while animals die. You can also work to inform others about the ways countless animals suffer when experimenters drip toxic chemicals into their eyes or rub them onto their bare skin in tests for cosmetics and personal-care and household products.
Text
peta2

to

30933

for ways to help animals, tips on compassionate living, and more!

Terms for automated texts/calls from peta2: http://peta.vg/txt. Text STOP to end, HELP for more info. Msg/data rates may apply. U.S. only.