Heading to the Gym? Pack These Vegan Essentials
Leg day is here! Can you spot me real quick? 😎 🏋️
Hitting the gym is a fun way to stay healthy, take a break from school and work, and improve mental health. Whether you're a gym newbie or people are asking you, "What's your deadlift max?" these vegan-friendly fitness essentials are sure to improve your gains and help animals.
Vegan Energy Bars and Gels
The number one gym rule? Take care of yourself! Exercising uses a lot of energy, so give your body the nourishment it needs to power through your routine. Fuel up with a vegan energy bar or gel before or after working out. Many popular brands, like Clif, offer a wide variety of vegan flavors. Try a Chocolate Brownie, Blueberry Almond Crisp, or Cool Mint Chocolate bar. Each one has at least 9 grams of protein to help you build muscle and keep your mind sharp. You can also choose a CLIF SHOT Energy Gel made of 85% to 90% organic ingredients. Learn more about eating healthy as a vegan here.
Reusable Water Bottle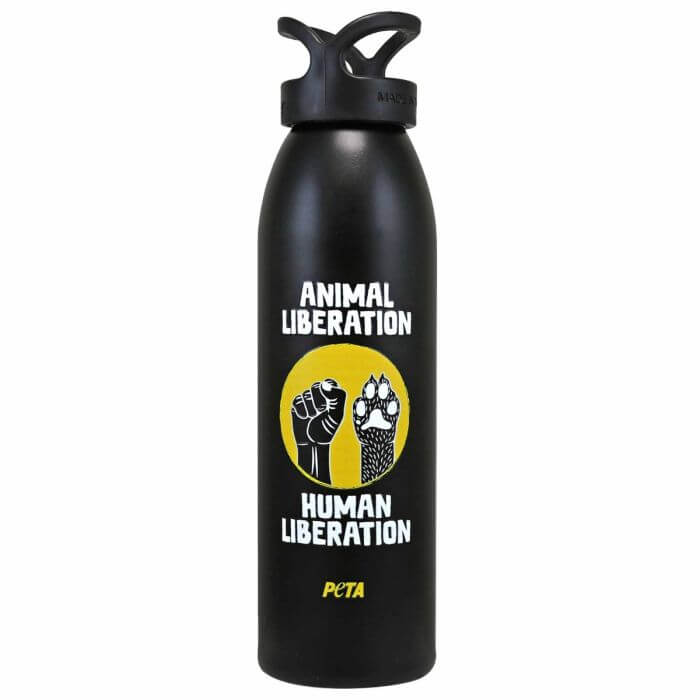 It's crucial to stay hydrated during your workout. Bringing a reusable bottle to each gym visit helps keep nasty plastic, which harms animals and their homes, from piling up. Pro tip: A reusable water bottle with an animal rights message on it will remind people that all sentient beings—humans and other animals alike—deserve compassion and respect. They're way more fun than disposable plastic bottles, which come in, um, clear. Boring!
peta2 T-Shirt
Get those reps in while reppin' animals with our peta2 logo tee. It's soft and light, made of 100% cotton, and available in faded maroon, perfect for making sure sweaty areas aren't totally obvious. Your animal rights tee is certain to stand out in a sea of plain, stained tank tops, and it will encourage others to think about our message.
Vegan-Friendly Sneakers
The right pair of shoes can make or break your workout, but shoes made of leather, suede, or other animal-derived materials are guaranteed to break animals' hearts. So step into a new you by making sure your gym shoes are vegan, too. Nike, adidas, and New Balance offer vegan sneaker selections, and some brands like Newton and Topo Athletic have completely vegan inventories. Trust us—wearing leather-free sneakers is part of having good form. 🏃‍♀️
Cruelty-Free Personal-Care Items
Hygiene is important, so freshen up before leaving the gym with cruelty-free personal-care products. Wash the sweat out of your hair and moisturize it with shampoo and conditioner, unclog your pores with a salicylic acid cleanser, restore your glow with a serum rich in epidermal growth factors, and apply deodorant to keep yourself smelling great.
*****
Now that your gym bag is filled with humane workout essentials, what are you waiting for? It's time to warm up!
Don't love working out? We hear you. You don't have to go to the gym to get rewarding exercise. According to a U.K. survey, people who regularly walk their dogs get seven more hours of exercise per week than people who go to the gym! If you want to boost your cardio, save money by not paying for a costly gym membership—make your dog jump for joy by grabbing a leash and a comfortable harness and going on walks several times a day. ☀️🐕
Text
peta2

to

30933

for ways to help animals, tips on compassionate living, and more!

Terms for automated texts/calls from peta2: http://peta.vg/txt. Text STOP to end, HELP for more info. Msg/data rates may apply. U.S. only.