Show Your Mom Love With These Animal-Friendly Mother's Day Gifts 
Mother's Day is a chance to recognize and celebrate moms—whether they're your own mother, an aunt, your grandmother, someone you love as a mother figure, or an animal mom from another species—for their love and dedication.
Remember: The perfect Mother's Day gift doesn't harm mothers or children of any species. ❤️ Get inspiration from our list of animal-friendly gift ideas to avoid supporting industries that exploit animals and take babies away from their loving mothers, robbing them of the opportunity to bond with each other.
Here are a few compassionate ways to show your appreciation for all the world's moms:
Flower Seeds
Thinking of getting your mom a bouquet of flowers? Consider planting them instead! 🌸 Planted flowers live much longer, and they also provide the nectar and pollen bees need to feed themselves and their larvae in the hive. Bees, in turn, fertilize crops and ensure that humans and other animals have plants to eat. Give thanks to bees and moms by getting flower bulbs or seeds from Eden Brothers to plant in your yard.
You can even shop specifically for flowers that attract pollinators like bee balms, coneflowers, and black-eyed Susans.
Breakfast in Bed
Kick off the day's celebration by making Mom breakfast in bed. Whatever you plan on serving, remember to skip eggs as ingredients or main dishes. The egg industry imprisons mother hens in cramped, filthy cages and steals their eggs over years of misery. Even "cage-free" farms still abuse hens and steal their eggs. Refuse to support this cruelty by making egg-free breakfasts like vegan pancakes or taking Mom's favorite recipe and swapping out the eggs for these ingredients.
Chocolates
A box of chocolates is a delicious way to say, "I love you." But chocolates made with dairy strip mother cows of their lifelong loving bonds with their calves. When allowed to, mother cows can nurse their calves for up to three years and nurture them for life. But the dairy industry tears moms away from their calves, steals their milk, and abuses them for profit. Show your respect for moms of all species with a vegan chocolate box—no cruelty to animals involved. 
Self-Care Products
Someone who cares for others as much as Mom does needs to care for herself, too. You can help give Mom a well-deserved break with one of Pacifica's many beauty and self-care products. This eco-conscious brand has hundreds of moisturizers, nail polishes, and perfumes to choose from along with sets bundled by area of self-care.
The best part? All Pacifica products are 100% vegan and animal test–free, so Mom can rest easy knowing her relaxation isn't coming at anyone's expense.  
Candle
Learning that common gifts such as candles can contain animal-derived ingredients may surprise you. 🤔 They aren't made of dairy or eggs, so what's the big deal? Many candles are made using wax from bees, who need it to build their combs. But don't worry: Octō makes all-natural soy wax candles with heavenly scents like Cedar + Juniper, Mandarin + Patchouli, and Eucalyptus + Peppermint.
Handbag
Help Mom be stylish and sustainable wherever she goes with an animal-friendly handbag. PETA Business Friend Cykochik offers gorgeous customizable bags that are made from vegan materials. You can also find cute and affordable vegan bags at Target made from 100% recycled cotton, nylon, and polyester.
Necklace
Looking for that perfect combo of elegance, compassion, and affordability? Check out this PETA bunny necklace made by Christy Robinson. This extremely talented and resourceful artist hand-sawed her pendant to produce a leaping bunny with a heart in the middle. If you're shopping for someone who loves jewelry and respects animals, we can't think of a better or classier gift.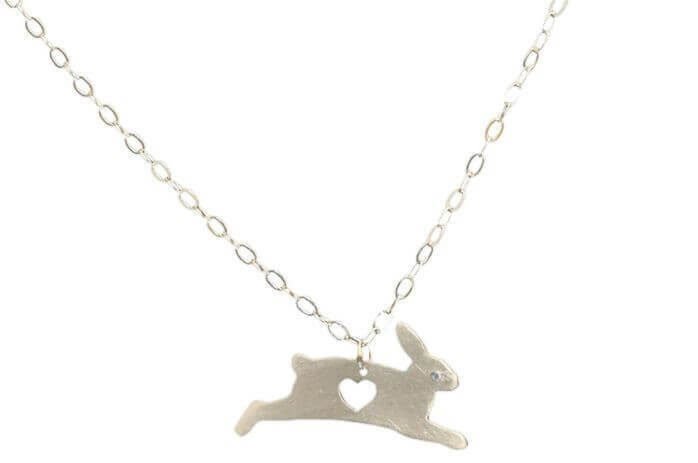 Sweater
Show you care about Mom's comfort with a cute and cozy 100% organic cotton cardigan, sweater, or crew neck from Pact. Each Pact product is also carbon-neutral and fair trade–certified, meaning your purchase benefits all species and their environments. Planning to look for clothes at the mall? Follow our animal-friendly shopping tips to make sure any clothes you buy for Mom are vegan.
*****
We'd love to see how you're making this Mother's Day animal-friendly. Be sure to tag @peta2 on Insta to show us your cruelty-free gifts and celebrations. Happy Mother's Day! 🎉
Text
peta2

to

30933

for ways to help animals, tips on compassionate living, and more!

Terms for automated texts/calls from peta2: http://peta.vg/txt. Text STOP to end, HELP for more info. Msg/data rates may apply. U.S. only.