Being Vegan on a Budget
Vegan staples like beans, rice, potatoes, and veggies are some of the cheapest, easiest to find, and healthiest things you can eat. No matter your budget, eating vegan can keep you full and thriving. When you do the math, meat, eggs, and dairy are more expensive than vegan options and come with the potential added cost of medical bills resulting from eating animal-derived foods, which has been linked to heart disease, diabetes, and some types of cancer.
Even if you're in college, living with your parents, or unemployed, you can still be vegan. Pasta with sauce, black beans and rice with your fave spices, vegetarian chili, and tofu or veggie stir-fry all have ingredients that are easily found at your local grocery store—and they're cheap, too! You don't have to buy extravagant specialty products to be vegan. It's as simple as checking the ingredients on everyday products. It's never impossible.
Check out these helpful tips to get started eating vegan on a budget:
Stick to the basics with staples like fruits, vegetables, beans, nuts, rice, pasta, tofu, and potatoes. They can be used in all sorts of different recipes and typically cost less than vegan meat alternatives.
When shopping for produce, it's often most cost-effective to buy frozen fruits and vegetables. The produce is frozen at peak ripeness, so you won't have to worry that it will spoil quickly.
Uncooked beans and other legumes are often cheaper than canned, although they take more time to cook.
Find out if your local grocery store has an app that you can download to take advantage of exclusive deals and digital coupons or rack up reward points when you shop.
Try some simple, cheap vegan recipes like those below.
Quick and Easy Pad Thai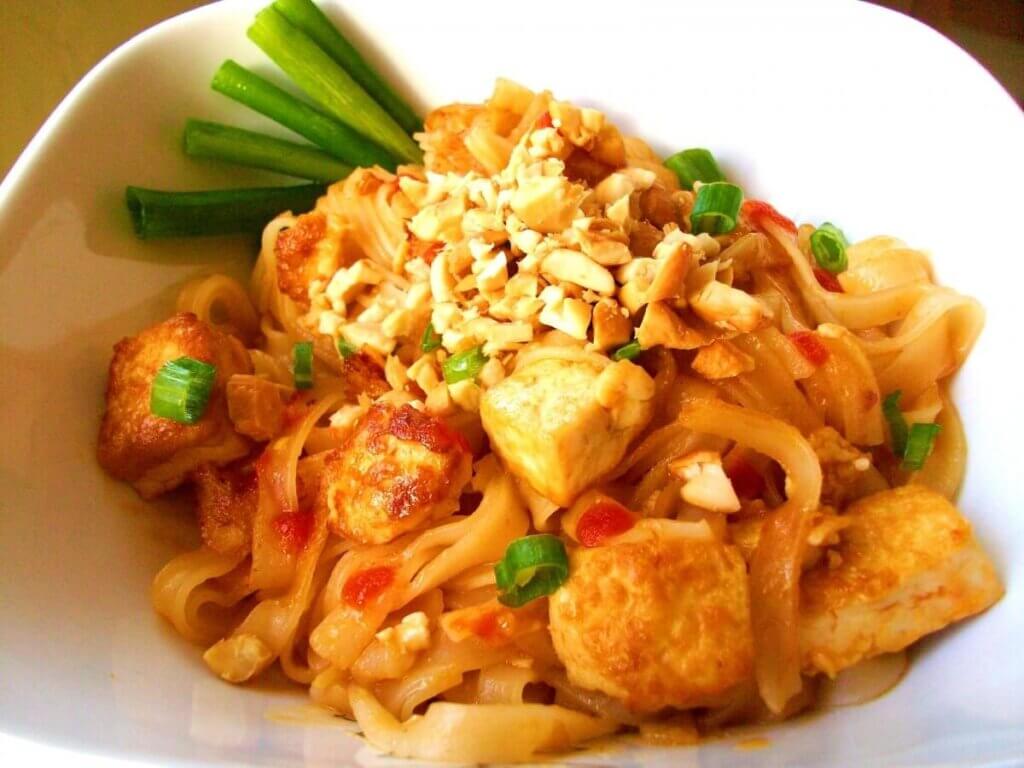 Ingredients
1 cup water, plus more for soaking the noodles
1 10-oz. pkg. rice noodles or ramen-style noodles
2 Tbsp. olive oil
2 cloves garlic, chopped
1/2 12-oz. pkg. extra-firm tofu, drained and cut into chunks
4 Tbsp. soy sauce
2 Tbsp. peanut butter
Juice of 2 limes
3 Tbsp. sugar 
Sriracha, to taste
Sliced green onions, for garnish
Chopped peanuts, for garnish 
Instructions
Bring water to a boil in a medium pot. Remove from the heat.
Carefully submerge the noodles in the water and soak for about 15 minutes. 
In a large frying pan, warm the olive oil over medium heat and add the garlic and tofu chunks. 
Drizzle 1 tablespoonful of the soy sauce over the tofu and sauté until golden brown. 
In a small bowl, whisk together the 1 cup of water, peanut butter, lime juice, sugar, Sriracha, and remaining soy sauce. 
Add the soaked noodles and peanut butter mixture to the tofu and cook through, about 5 minutes. 
Garnish with sliced green onions and chopped peanuts. Serve right away. 
Mac and 'Cheese'–Stuffed Peppers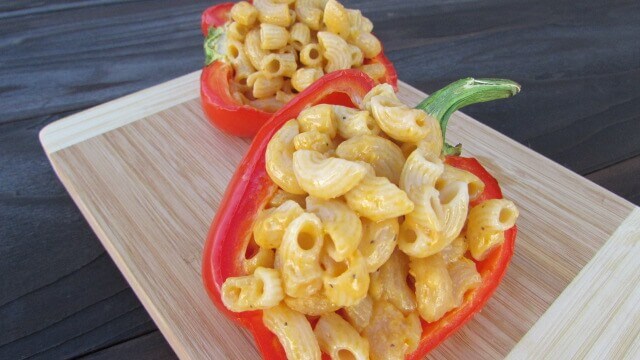 Ingredients
1 cup dried macaroni
1/2 cup shredded vegan cheddar cheese
1 Tbsp. vegan margarine
2 Tbsp. nondairy milk
1 Tbsp. Dijon mustard
Salt and pepper, to taste
1 bell pepper, halved and seeded
Instructions
Preheat the oven to 400°F.
Bring water to a boil in a medium pot. Add the dried macaroni and cook according to the package instructions. Strain, then transfer back to the pot.
Stir in the shredded vegan cheddar cheese, vegan margarine, nondairy milk, and mustard. Season with the salt and pepper and continue mixing until the vegan margarine and "cheese" have melted.
Fill each pepper half with half of the cooked mac and "cheese."
Bake for about 15 minutes, or until the peppers are tender. Serve immediately.
60-Second Tofu Scramble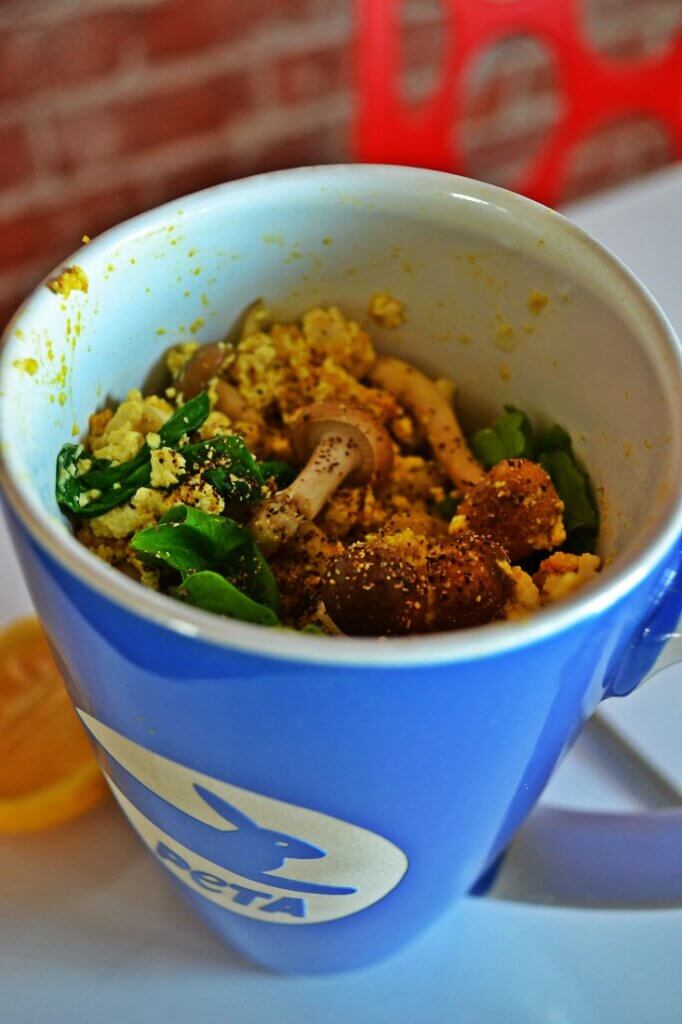 Ingredients
1/2 block firm tofu, drained
1/4 cup veggies
3/4 cup nutritional yeast
1 Tbsp. soy sauce
Juice of half a lemon
Seasonings, to taste
Instructions
Crumble the tofu through your fingers into a microwave-safe mug.
Add in the rest of the ingredients and mix together.
Do a taste test: Do you want more spice, color, or cheesy goodness? If so, add more spices for a kick, turmeric for color, or nutritional yeast for a cheesier flavor.
Microwave the mug for 60 seconds. Serve immediately.
Slow-Cooked Vegan Chili
Ingredients
2 Tbsp. olive oil
1/2 cup chopped onions
1 Tbsp. chili powder
1 tsp. cumin
2 15-oz. cans kidney beans, rinsed and drained
1 15-oz. can diced tomatoes
1/2 large green bell pepper, chopped
2 cups vegetable broth
1/4 tsp. ground black pepper
1/4 cup vegan sour cream
1/4 cup shredded vegan cheddar cheese
1/4 cup chopped chives
Instructions
Warm the oil in a large skillet over medium heat. Sauté the onions until they're soft.
Add the chili powder and cumin and cook for an additional 2 minutes, or until fragrant.
Place in a slow cooker with the kidney beans, tomatoes, bell pepper, vegetable broth, and pepper, stirring well to combine. Cover and cook on low for 6 to 8 hours.
Garnish with the vegan sour cream, vegan cheddar cheese, and chives.
---
So next time you want to pull out your trusty "It's too expensive!" excuse, think again. Is it really? Or are you just trying to justify your choice to continue eating animals? Go vegan today and save nearly 200 animals every year!
Text
peta2

to

30933

for ways to help animals, tips on compassionate living, and more!

Terms for automated texts/calls from peta2: http://peta.vg/txt. Text STOP to end, HELP for more info. Msg/data rates may apply. U.S. only.