Veganize Your Delivery Pizza!
It's only human to love a good vegan pizza. But what do you do for late-night delivery? Or when your not-yet-vegan friends want to order from the typical pizza joint in town and you don't want to be the annoying vegan who doesn't? Have no fear! We've got good news for you: Most pizza delivery chains are totally vegan-friendly.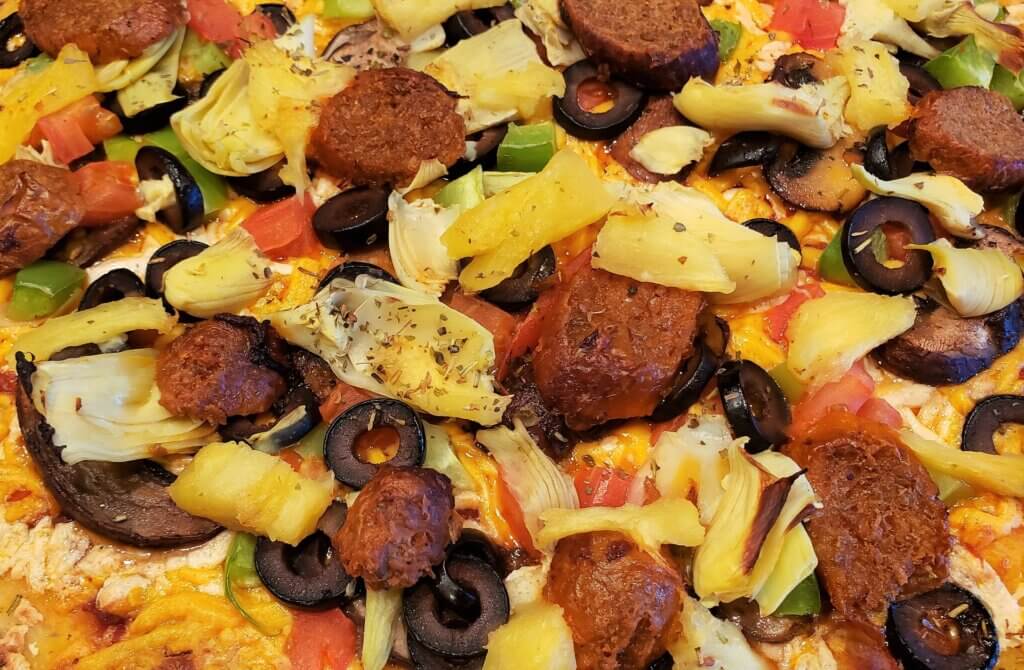 Follow our tips and you'll be able to snag a vegan pizza just about anywhere.
THE BASICS
Since most pizza delivery chains don't carry vegan cheese (yet), dive into a cheeseless pie, which you can get whenever you want—and that's always a good thing.
Order extra sauce. You can usually get it for free in place of the cheese.
Treat yourself and go crazy with veggie toppings. Up the flavor meter with zesty garlic and banana peppers, or make a yummy sweet 'n' savory pizza by throwing some pineapple on with your veggies.
WHAT TO ORDER
Papa John's
The sauce and original hand-tossed dough are vegan, so go ahead and order your veggie pizza as usual—but without cheese.
Do your thing with the wide variety of veggie toppings.
Bonus: Order extras of the garlic dipping sauce (totally vegan) or get BBQ sauce on your pie.
Domino's
Order the thin crust (the others aren't vegan) and regular sauce.
Order all the veggie toppings your heart desires.
Bonus: Kick up the yum factor and get some dipping cups on the side. The garlic sauce, BBQ sauce, hot Buffalo sauce, and Italian dipping cups are all vegan. Woo-hoo!
Pizza Hut
Order Premium Crushed Tomato sauce and either the Thin 'N Crispy, Hand-Tossed, or Original Pan crust.
Go crazy with the veggie toppings.
Bonus: The cinnamon sticks are totally vegan (but the White Icing Dipping Cup isn't).
GETTING FANCY
OK, you've had a delicious vegan pizza delivered to your door. Here's how to take it up a notch so it really slaps:
Have some vegan cheese at home? Preheat your oven while you wait for the pizza to arrive, and once it does, sprinkle it with vegan cheese and slide it into the oven. In a few minutes, it'll be super-cheesy.
To get your cheesy fix with no baking required, sprinkle on some nutritional yeast or vegan Parmesan.
Ask for extra red pepper packets if you like it spicy.
---
If you don't mind picking up a pie yourself, Papa Murphy's now offers vegan cheese. Grab a Take 'n' Bake pizza today. You won't be sorry.
You can also grab a pizza with vegan cheese from chains like MOD Pizza, Blaze Pizza, and Mellow Mushroom.
Being vegan is so freaking easy. Looking for more vegan options at chain restaurants? Check out our ultimate guide to dining out vegan!
Text
peta2

to

30933

for ways to help animals, tips on compassionate living, and more!

Terms for automated texts/calls from peta2: http://peta.vg/txt. Text STOP to end, HELP for more info. Msg/data rates may apply. U.S. only.