See How These Students Got Vegan Options Added in Their School's Cafeteria
In addition to combating deforestation, decreasing their carbon footprint, and sparing the lives of nearly 200 animals per year, each person who goes vegan reduces their risk of suffering from heart disease, diabetes, cancer, and other health conditions. And that's exactly why four students at Aliso Niguel High School (ANHS) in Aliso Viejo, California, pushed the school's administrators to offer vegan meals in the cafeteria this year. 🎉🌱
Adelina Toufanpur, Harlow Kelley, Jenna Jund, and Isabella Phelps are all part of the Earth-Based Club. They work together to encourage other students to consider how they can help animals and the planet.
"Our favorite part of this process has been doing what we love most and sharing it with others around us. We love being able to make an impact for ANHS as best friends. We love being advocates for animals and advocates for a healthier lifestyle. We believe that a vegan diet is the healthiest and most environmentally friendly diet, and we want to share our beliefs on that through our club. The goal of inspiring a more plant-based diet at our school started off small, but with our determination and support, we have been able to add vegan options to our cafeteria menu. After never having options designed for our diet throughout our years in this district, we were able to take matters into our own hands and couldn't be more excited!"

Earth-Based Club
After Adelina, Harlow, Jenna, and Isabella presented school officials and cafeteria managers with ideas for vegan options, the cafeteria added delicious vegan meals to the menu. The four had the support of their club members, held tabling events to get other students to sign a petition for more vegan options, and worked determinedly with cafeteria staff to get both students and animals what they deserve.
With its vegan meals, including meat-free nuggets and a Chick'n Parmless Hoagie, the cafeteria is showing students just how delicious compassionate eating can be—thanks to the Earth-Based Club!
Adelina, Harlow, Jenna, and Isabella are true heroes to animals. So peta2 is giving them each a Hero to Animals Award to honor them for their dedication to spreading compassion. And we're thanking Aliso Niguel High School for embracing healthy and kind vegan options.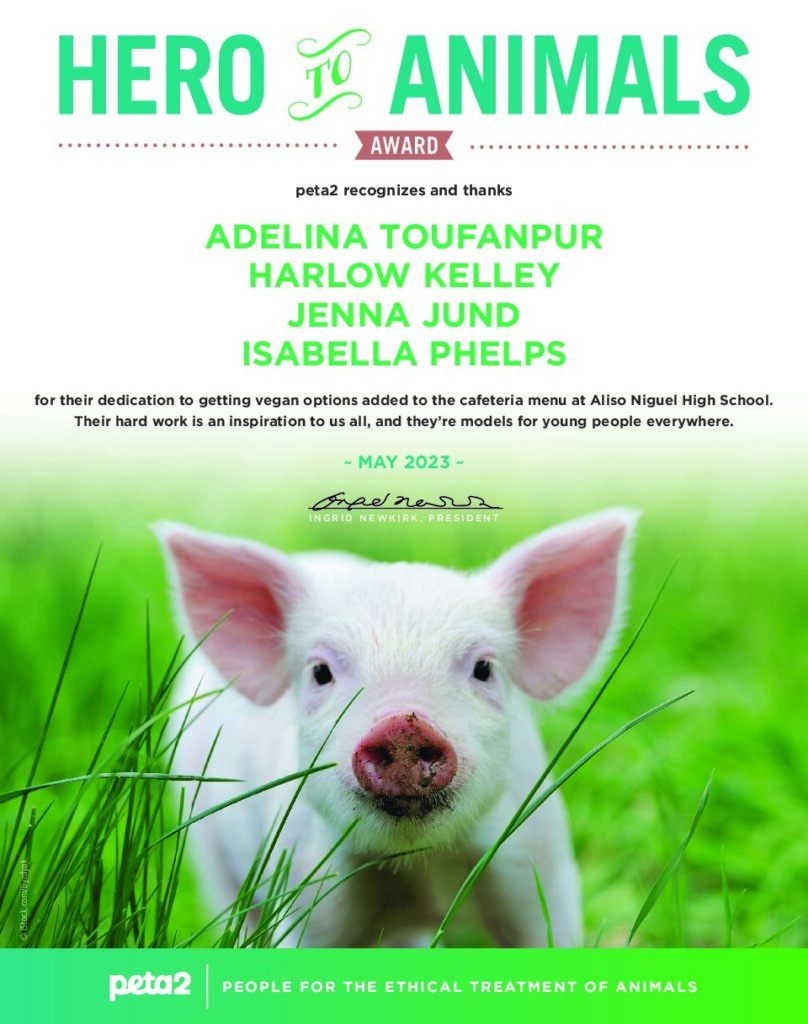 Some of the new vegan options have even made their way onto the menus at the local elementary and middle schools!
When asked what advice they would give other young people who want to get vegan items added to their school menu, Harlow, the vice president and a cofounder of the Earth-Based Club, says, "The support of our peers toward a common goal is what made it possible for this dream of ours to come true. We believe that by dedicating yourself to a goal, like wanting more plant-based options at your school, is the major step toward making it possible. Don't be afraid to express your feelings about the subject, because you would be surprised to see how many of your peers feel the same way and are willing to support you!"
Adelina, the president and a cofounder of the club, says, "My advice to students who are unhappy with the lack of vegan options in their school is to be the change they would like to see in their school. During my freshman year, all I did was complain that my school didn't offer food for me. So I decided to take matters into my own hands with this club, and it has been going amazing! Anyone can do it—you just need a positive mindset!"
You Can Be a Hero to Animals, Too
Any student can take a page out of the Earth-Based Club's book by starting an animal rights club or campaigning to get vegan options added in their school's cafeteria.
"I've been vegan for two years, and it has definitely opened up my eyes more about what we are putting into our bodies and how it affects everyone. I am vegan for the animals first, so cofounding this club was mainly because I wanted to share about the animal agricultural industry and how it harms the animals, the planet, and ourselves. Being able to have an influence on ANHS and adding vegan options is everything I've dreamt about, and I couldn't be happier! And doing it with my best friends Harlow, Jenna, and Isabella by my side makes it all worthwhile."

Adelina Toufanpur, President and Cofounder of the Earth-Based Club
Keep up the great work, Adelina, Harlow, Jenna, and Isabella! Animals and the planet are lucky to have you on their side. 🌎🐮
Text
peta2

to

30933

for ways to help animals, tips on compassionate living, and more!

Terms for automated texts/calls from peta2: http://peta.vg/txt. Text STOP to end, HELP for more info. Msg/data rates may apply. U.S. only.