12 Latinx Celebs and Influencers Who Inspire Us to Stand Up for Animals
The Latinx community has always been a crucial part of the animal rights movement, and we're here to hype some compassionate Hispanic and Latinx celebs and influencers who inspire us all to stand up for animals. 🥳 These folks push for change by using their platforms to educate and/or by collabing with PETA and PETA Latino—our outreach division for Spanish-speaking communities in the U.S. and Latin America. Here's how they do it:
Camila Cabello
Besides being one of our gen's hottest Latin music stars, Camila Cabello is a huge animal advocate. The "Señorita" singer supports adopting—not buying—animal companions and having them spayed or neutered so we don't add to the millions of homeless cats and dogs.
Mar
Want to satisfy your sweet tooth? Visit Mar's IG page to get inspo and recipes for mouthwatering vegan baked goods and other sweet treats. 😋
Bella Thorne
This Cuban American singer and actor isn't afraid to take the corporate status quo and shake it up. 😉 In a PETA ad, she slammed SeaWorld for imprisoning animals and called on everyone to boycott marine parks—using a few not-so-subtle words.
Stephanie Gerard
Vegan tips. Acrobatic vids. Adorable dogs. What more could you ask for? Singer and actor Stephanie Gerrard obvi knows the winning IG formula.
Elyfer Torres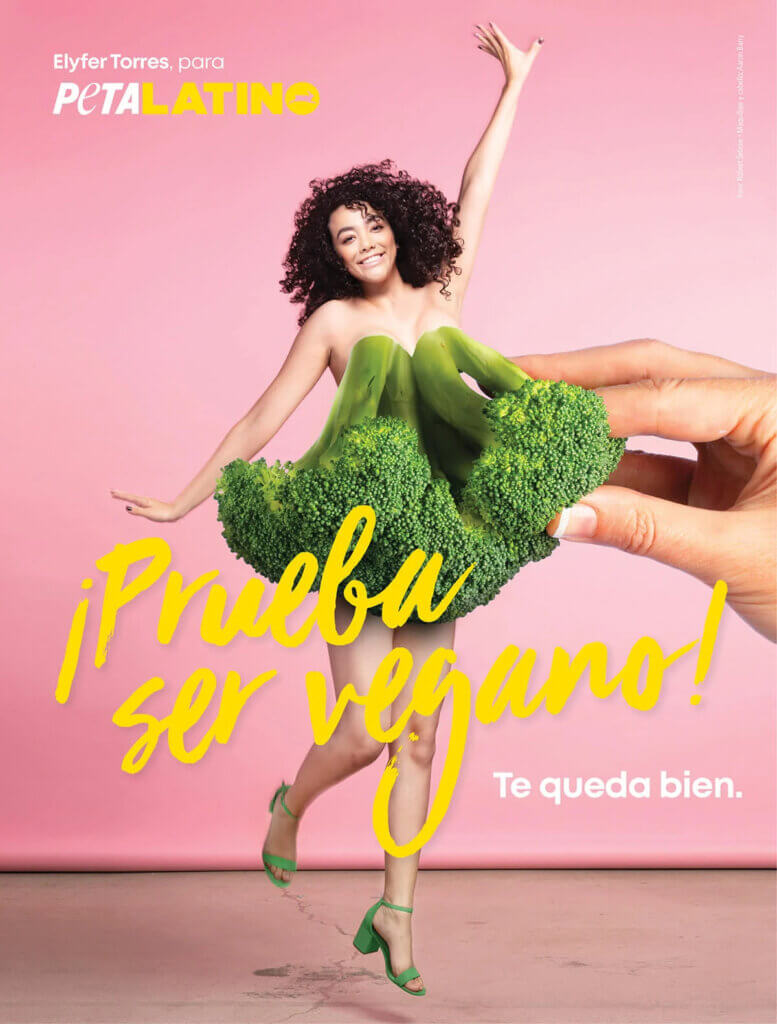 Star of the telenovela Betty en NY, Mexican actor Elyfer Torres encourages us to spare animals by going vegan. She broadcasted this message in a broccoli-themed ad for PETA Latino: "Try being vegan! It looks good." It's def a good look for her. 🤩
Oriana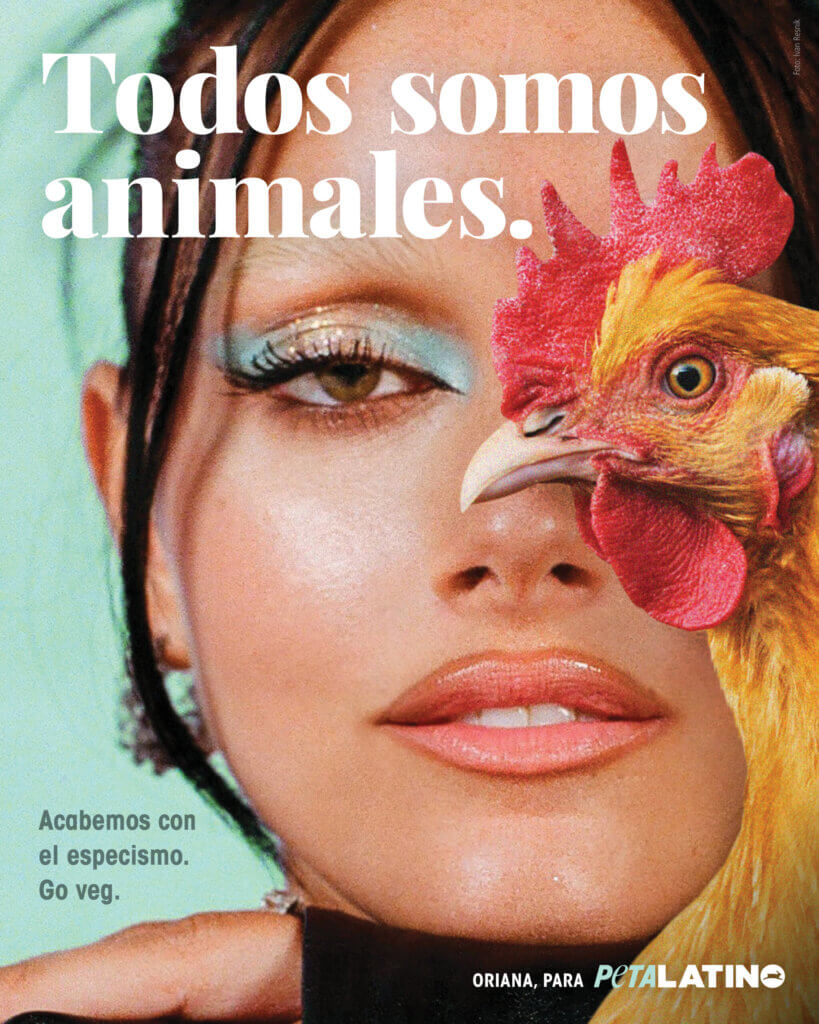 Argentine singer, actor, and model Oriana Sabatini (aka Oriana) is the face of a beautiful ad reminding us that we're all animals with thoughts and feelings. She says that one of the best decisions she ever made was to stop eating animals—and you can go vegan, too. Oriana puts it best: You'll save a life with every meal.
William Valdés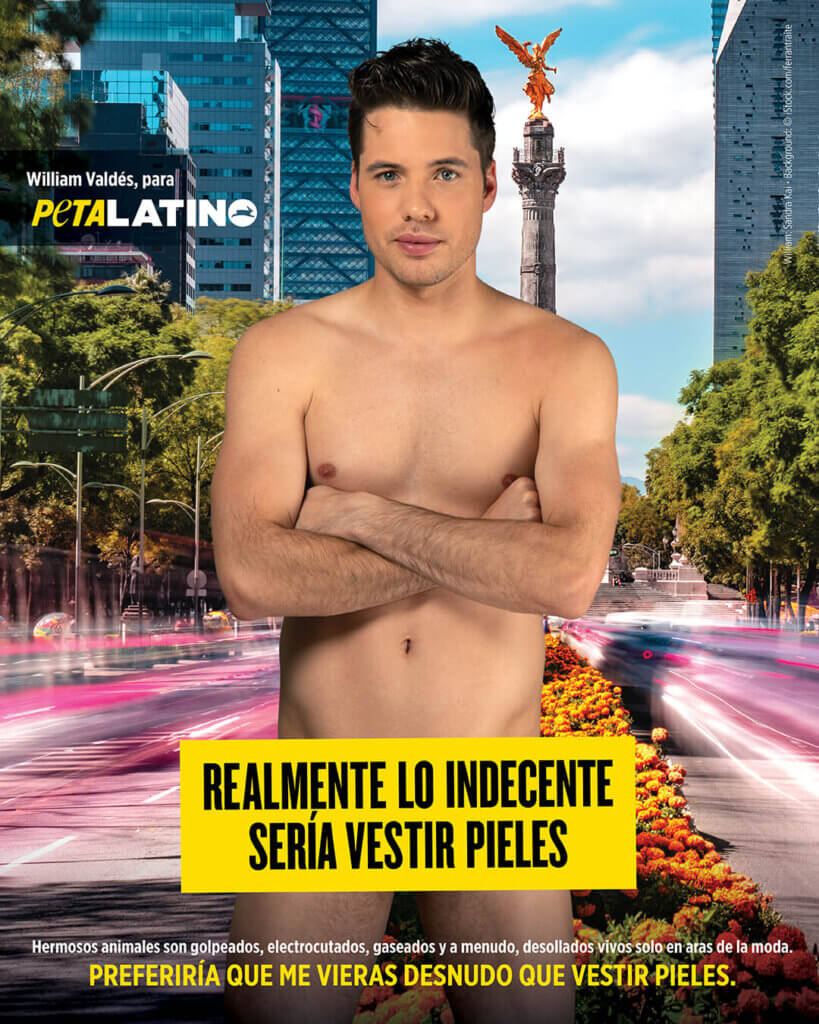 Know a good way to spot a hardcore animal activist? When they'd rather bare it all than wear fur. 😏 Cuban actor, singer, and television host William Valdés shared the naked truth behind the fur industry to show that there's nothing fashionable about wearing someone else's skin.
Carlota Bruna
Carlota Bruna is all about animal activism. Scroll through her IG page, which features expert-level animal rights info, stunning and compassionate travel destinations, and delicious vegan food. Plus, she's a registered dietitian, so you know that the tasty-looking food in her feed will also be healthy as hell.
CNCO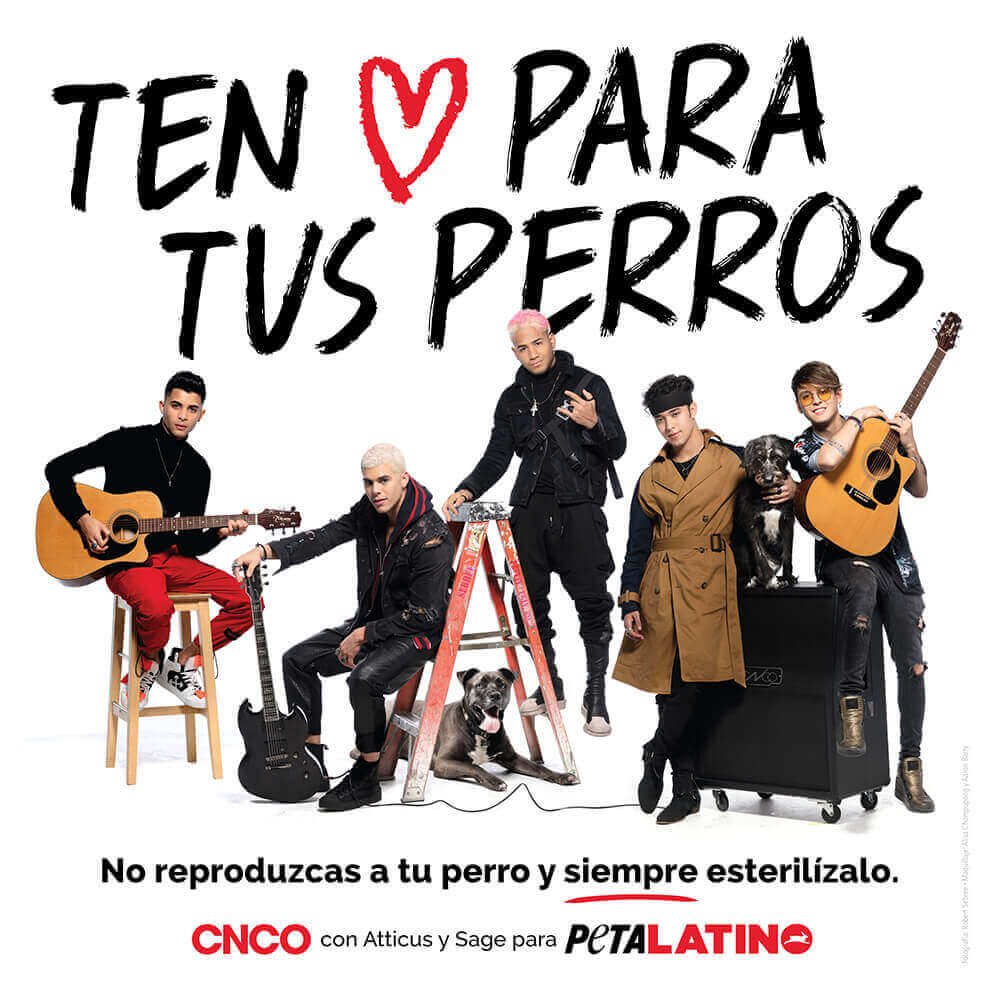 RIP CNCO. 😭 The iconic Latinx boy band may be on its farewell tour, but we'll be feeling the group's impact on music and animal rights for a long time. All five original members helped to curb the companion animal overpopulation crisis by letting their millions of fans know to never breed dogs and to always have them spayed/neutered.
Miguel Bernardeau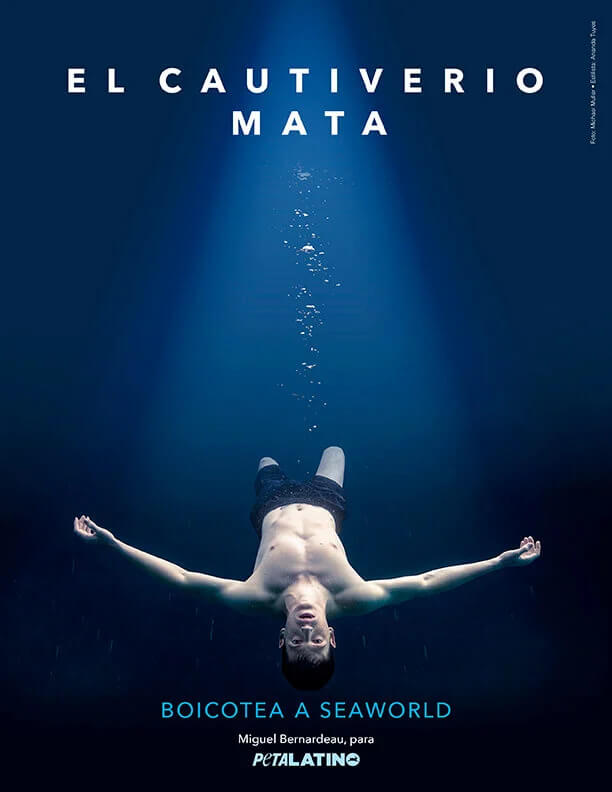 Here's another star who used an artistic touch to call out SeaWorld. Spanish actor Miguel Bernardeau posed for a haunting photo showing that captivity kills. If you want to help save marine animals from miserable lives and deaths, take his advice and #BoycottSeaWorld.
Andrea Meza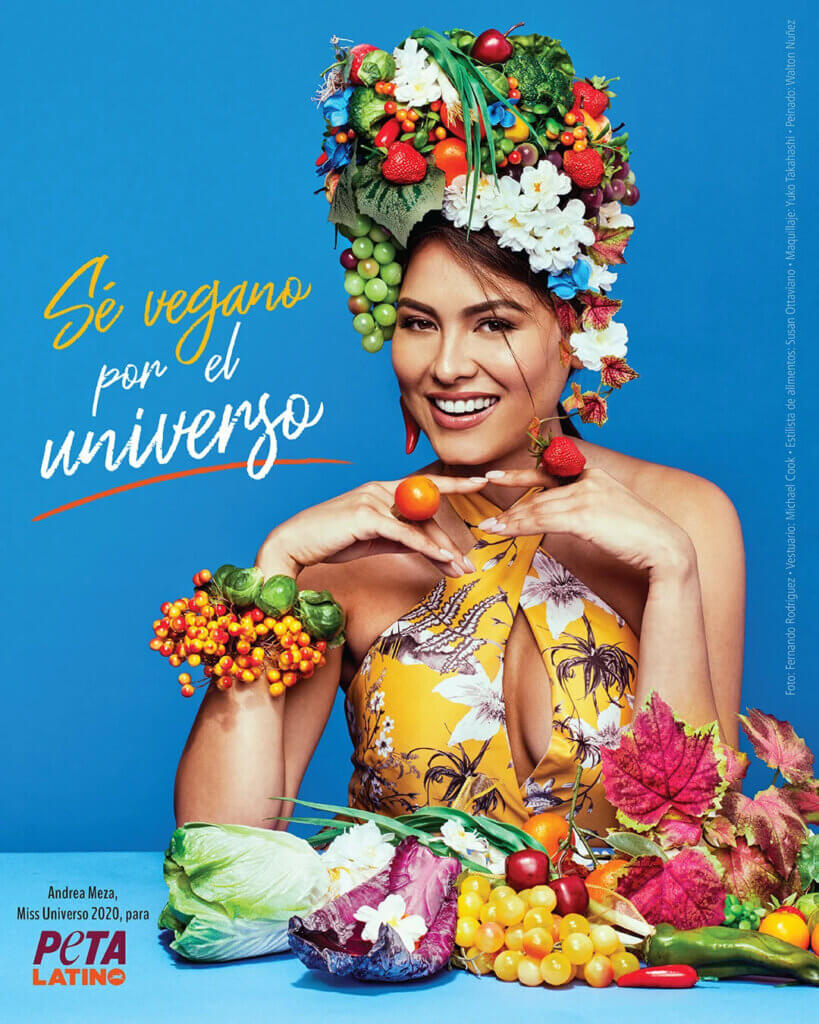 How can you make fresh, colorful fruits and veggies look even more gorg? Just have Miss Universe 2020 wear them. 😲 The beautiful and talented Andrea Meza, the first vegan to win the competition, has a message for all her admirers: "Be vegan for the universe."
Selena Gomez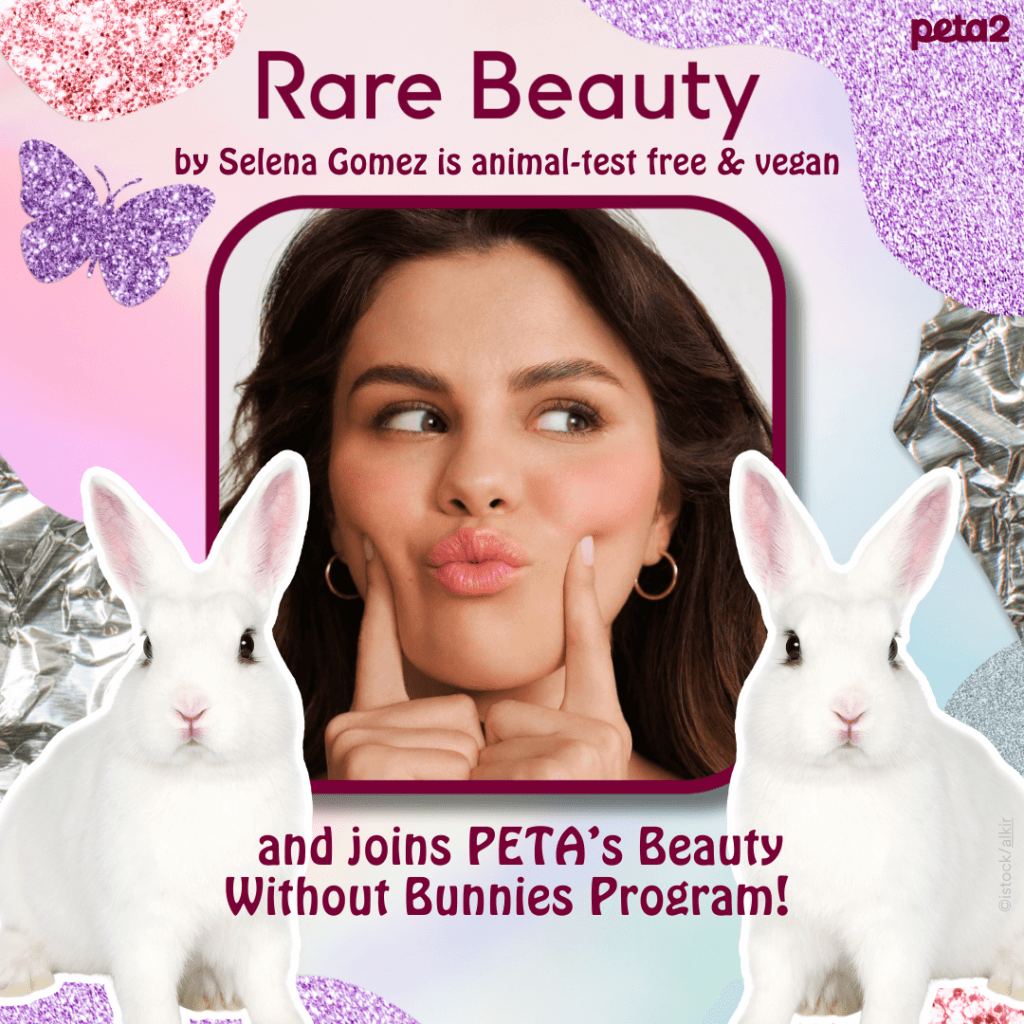 Do you really think we'd skip Selena Gomez? 😍 The Mexican American icon owns Rare Beauty, a stunning cosmetics brand that never tests on animals and uses only vegan ingredients. Now, you can get the top cruelty-free makeup products that this star uses for her on-screen look.
*****
Did you learn something new about one of your fave celebs from this post? Be sure to share this with friends and fam to show them that they can follow their idols' leads by making compassionate life choices. All the folks we mentioned have done wonderful work to help animals—and we've only just scratched the surface of the Latinx community's contributions to the animal rights movement!
Text
peta2

to

30933

for ways to help animals, tips on compassionate living, and more!

Terms for automated texts/calls from peta2: http://peta.vg/txt. Text STOP to end, HELP for more info. Msg/data rates may apply. U.S. only.