Mission: Spread ThanksVegan Energy—Post Notes to Save Turkeys
With Thanksgiving coming up fast, one animal is at mega risk: turkeys. 🦃 While humans kill turkeys for food year-round, fall and winter are especially scary times for these birds. But they don't have to be. Help us get as many people as possible to ditch turkey flesh for vegan food this holiday season by posting notes around town.
Here's Why Turkeys Are Awesome
Turkeys are truly amazing animals. They are the life of the party and love socializing, making friends, and napping and cuddling with their besties. 😩❤️ Besides being ridiculously cute, turkeys are smart af. They can tell which insects and snakes are dangerous, visualize a map of their territory, and recognize patterns.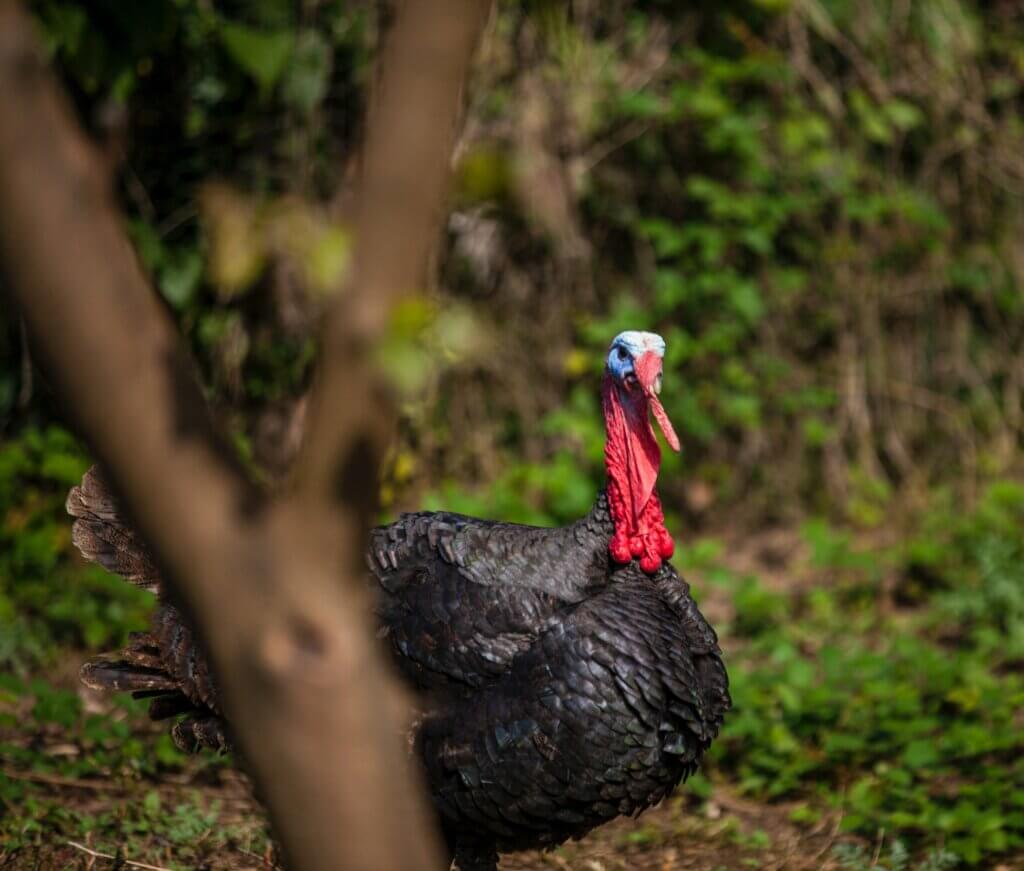 See how much we have in common with turkeys? So imagine how devastated you'd be if workers kept you in crowded conditions away from your fam, denied you the chance to breathe fresh air, and slaughtered you by shackling you upside down and slitting your throat. 😱 This type of suffering is exactly what the meat industry puts turkeys through.
Here's How You Can Help Turkeys
If you want to protect turkeys who are forced to live and die this way, spread info in order to turn others off from eating them. Just follow these steps:
1. Write one of the messages below (or a turkey fact that you like) on a piece of scrap paper or on a sticky note.
Most turkeys are slaughtered when they're only 5 or 6 months old. Are you eating a baby for Thanksgiving? peta2.com
More than 45 million turkeys will be slaughtered for Thanksgiving this year 🙁 Go vegan! peta2.com
Turkeys love music and will legit try to sing along. Don't eat these amazing animals for Thanksgiving. peta2.com
In nature, turkeys can live for up to 10 years. Help them enjoy their full lives: Eat vegan this Thanksgiving. peta2.com
2. Put your note somewhere where many others will see it, like at a public library, on a school bulletin board, or on a turkey-based product at the store.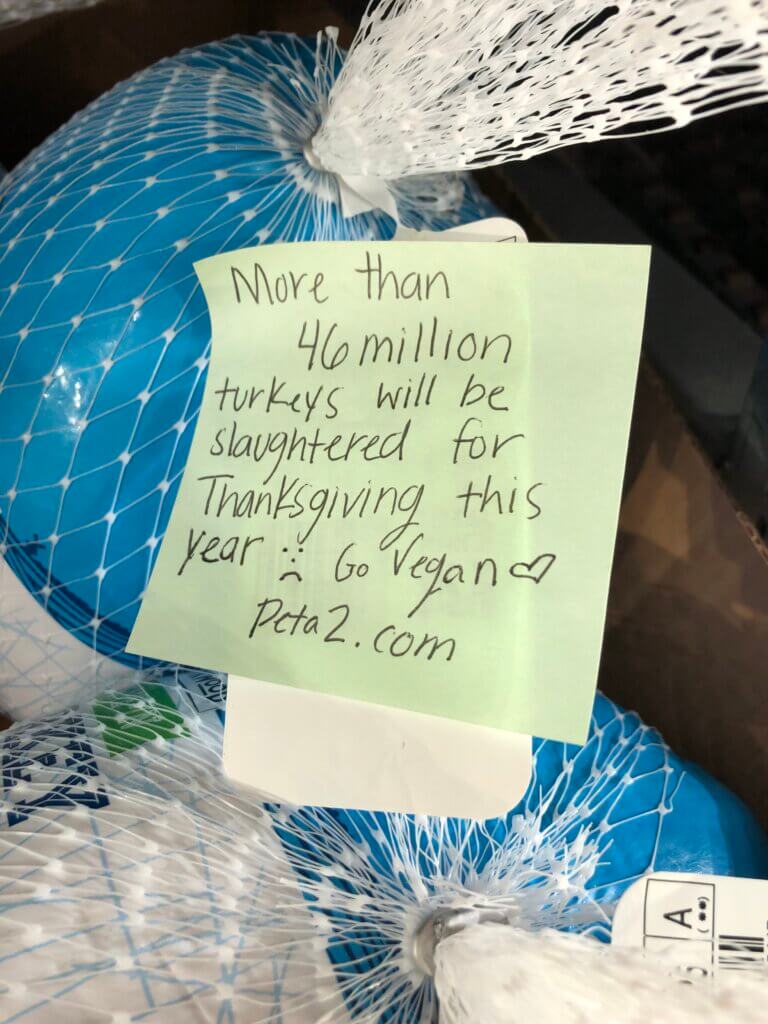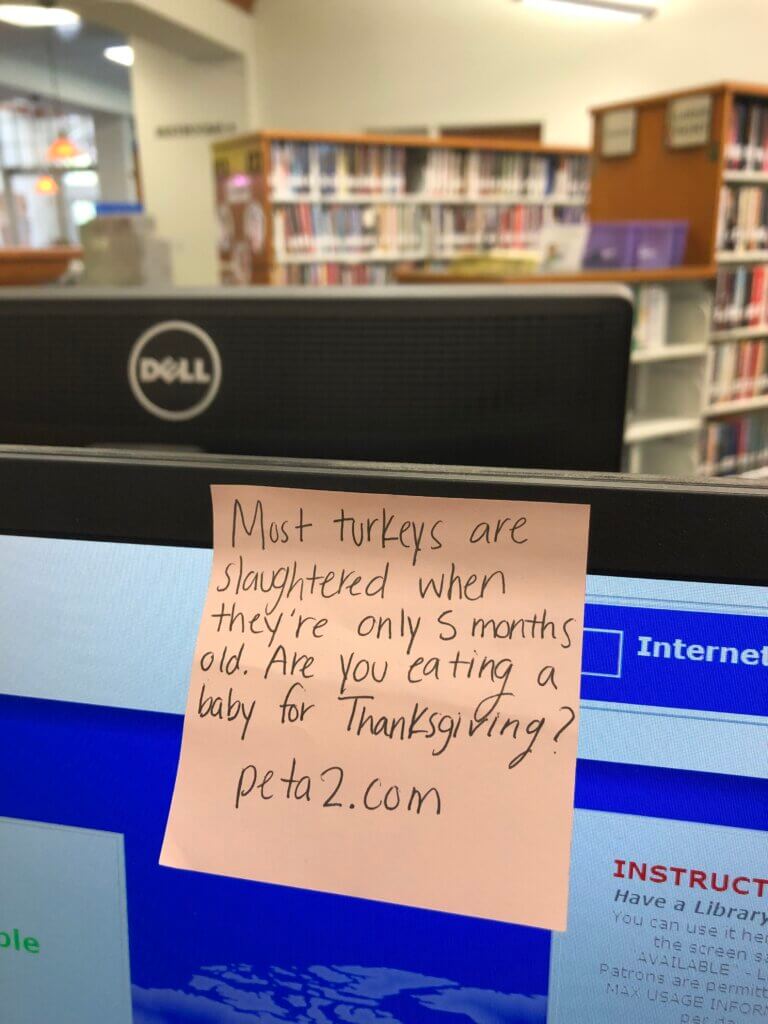 3. Take a pic of your note and submit it for 25 peta2 points in our Rewards Program. 😎 (Heads-up: You'll only get points for taking this action once.)
Text
peta2

to

30933

for ways to help animals, tips on compassionate living, and more!

Terms for automated texts/calls from peta2: http://peta.vg/txt. Text STOP to end, HELP for more info. Msg/data rates may apply. U.S. only.