Safety Tips Every Animal Guardian Should Know This Halloween
Candy, costumes, scary movies, parties—what's NOT to love about Halloween? 🎃
Unfortunately, animals often don't enjoy Halloween as much as we do. Noisy, costumed trick-or-treaters can be frightening, and mischief-makers sometimes target animals left outdoors alone. Halloween is also the busiest time of year for the Pet Poison Helpline because companion animals often ingest Halloween candy or decor.
Here are some tips for keeping your four-legged friends safe on the eeriest day of the year:
Keep Cats Indoors
As outdated as it seems, some people are still afraid of black cats because of old superstitions. (Black cats are less likely than others to be adopted from animal shelters.) Cats left outdoors can become targets for people who may hurt or steal them. All cats, black or otherwise, should always be kept indoors unless they're leashed with a cat-appropriate harness or appropriately contained and supervised—it's just a lot safer.
Keep Dogs Indoors
With all the noise and commotion, dogs might escape from your yard and run in a blind panic, getting lost or hit by a car. Imagine how horrible it would be to look out into your yard and see the gate open and your pup gone! Keep your canine companions indoors unless you're outdoors, too, to supervise them.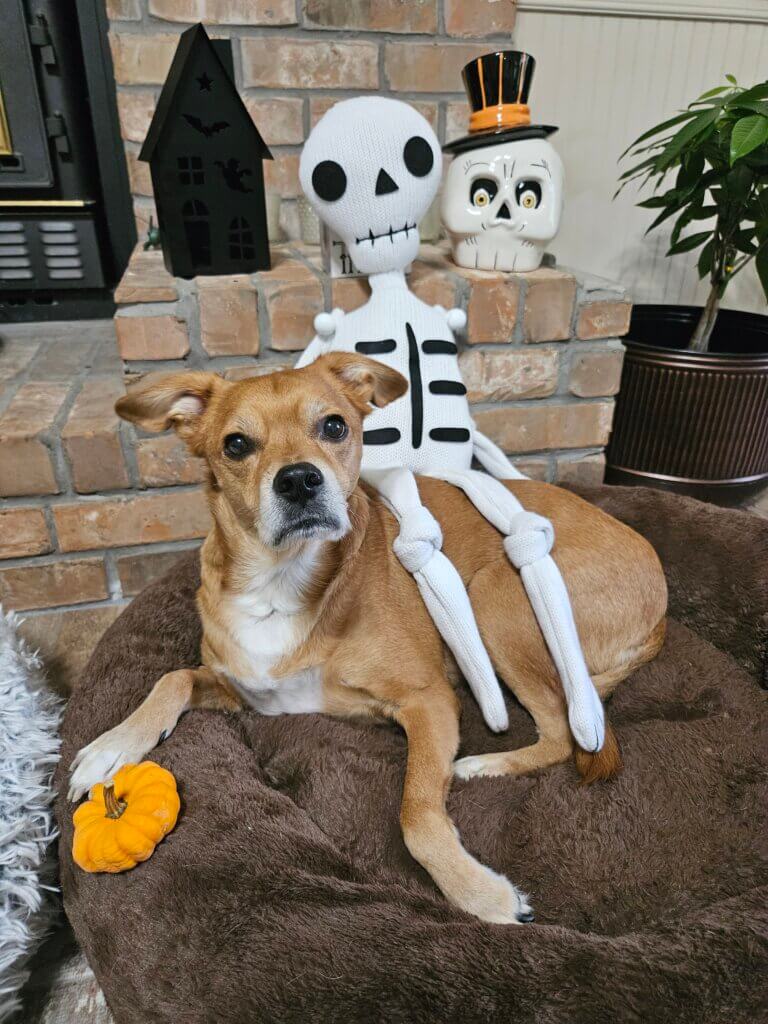 Keep Animals Away From Trick-or-Treaters—and From Open Doors
When you open the door to trick-or-treaters, cats can easily slip through unnoticed. It's far safer to keep them away from all the commotion. The same can be said for dogs, who could escape or knock over a child. Some dogs may even bite children, thinking they're intruders. To avoid this type of trouble, you could put a basket of candy on your front porch with a sign reading, "Help yourselves, kids!" Or if your animals are easily stressed by the sounds of noisy kids, consider just turning off your porch light and forgoing the tradition altogether. Instead, do an indoor activity such as carving pumpkins or watching a scary movie.
Halloween Stress-Busters for Sensitive Dogs and Cats
If your animal companion finds Halloween stressful, you can apply some of the same stress-relieving techniques people use on the Fourth of July, such as putting a ThunderShirt on your dog, playing soothing music, or using calming nutritional supplements.
Don't Take Dogs Trick-or-Treating
Trick-or-treaters are focused on running from house to house in pursuit of candy, not watching out for animals. Some dogs might get scared and break loose or even end up biting someone. For everyone's safety, just leave pups at home.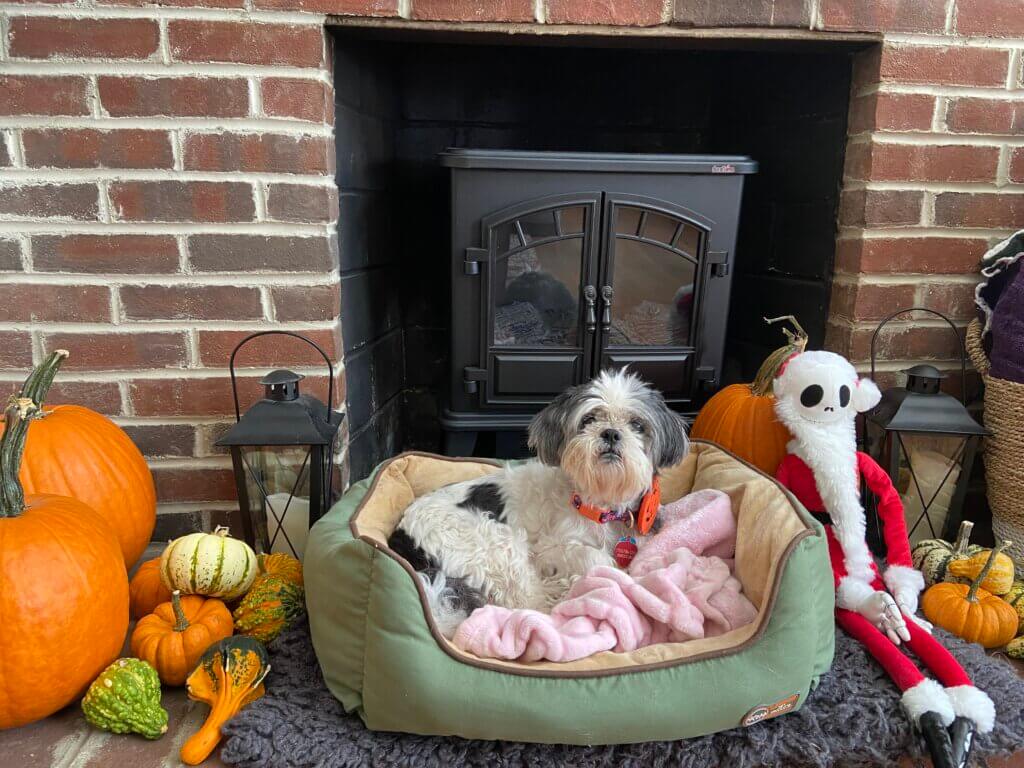 Keep Candy Away From Animals
Candy and even the wrappers it comes in can make animals sick. Chocolate can be deadly to dogs. Keep candy in a secure place where animals can't get to it, and keep an eye on young kids to make sure they don't share their Halloween haul with their animal companions.
If you think your dog or cat may have eaten candy or something else that could be harmful, contact the Pet Poison Helpline right away at 1-800-213-6680.
Be Careful With Halloween Decorations and Supplies
Jack-o'-lanterns and candles can be dangerous to animals, and toy slime (which could be poisonous) can be tempting to a curious cat or dog, so keep these items well out of reach.
Remember That Animals Aren't Props
No matter how adorable you may think they look dressed up, dogs and cats aren't here for our amusement and don't want to wear costumes, which are often held on with tight rubber bands or straps that can cut off circulation and pull fur. Cats and dogs can't speak human language, but when they're stressed or uncomfortable, they do give behavioral signs that observant people can recognize. Show them some consideration and let them go au naturel.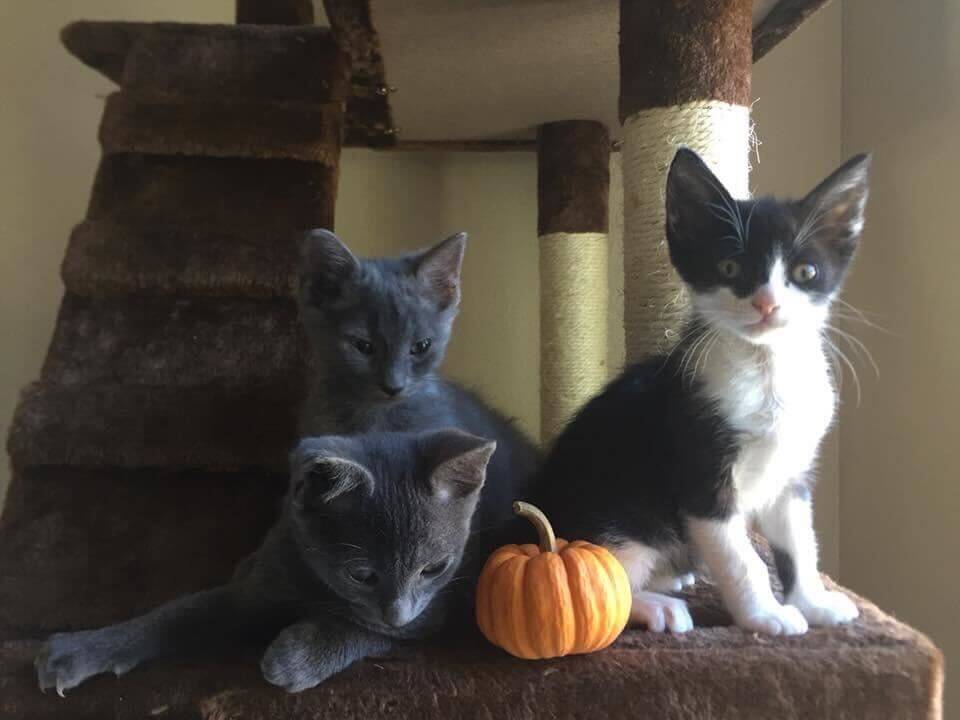 *****
You and your animals deserve to have the best Halloween EVER! We know you won't enjoy the big day if your animals are unhappy, so follow these tips to make sure the worst thing you wake up to on November 1 is a sugar hangover. 🍭
Text
peta2

to

30933

for ways to help animals, tips on compassionate living, and more!

Terms for automated texts/calls from peta2: http://peta.vg/txt. Text STOP to end, HELP for more info. Msg/data rates may apply. U.S. only.