Guide to Vegan Food at Universal Studios and CityWalk
If you want to electrify your free time with nonstop thrills, you can't do much better than those at Universal Studios' theme parks in Hollywood, California, and Orlando, Florida. These parks have it all: heart-pumping rides, entertaining shows, and immersive adventures in breathtaking universes such as Jurassic Park, Harry Potter, Super Nintendo, and more. 🤩
You can easily spend the whole day bouncing from one attraction to the next at either location, so you'll need to keep your energy levels high by fueling up with tasty food. This is where Universal Studios goes from great to legendary—the parks offer lots of delicious vegan options! Being vegan is the best way we can make a difference for animals, who deserve to live in peace with their friends and family.
Here are some of our fave choices at Universal Studios and CityWalk, the entertainment districts attached to the theme parks. This list doesn't cover all the vegan food available at Universal Studios and offerings change often, so make sure you call restaurants or check their menus online before heading over. 😊
HOLLYWOOD
Ben & Jerry's
This iconic ice cream chain has a ton of vegan flavors made from almond milk and sunflower butter. The Universal Studios Hollywood shop always offers a few of these flavors, so if the Cali heat has you sweltering, cool off at Ben & Jerry's.
Buca di Beppo Italian Restaurant
Many of Buca di Beppo's pastas are vegan, like the classic Spaghetti Marinara, so Italian food stans don't need to fret over not being able to find animal-free delights. You also don't need to worry about skimpy portions. The small size feeds three people, and the large feeds five. 😮
Dongpo Kitchen
Not craving Italian? Just take a two-minute walk from Buca di Beppo to Dongpo Kitchen, which serves delicious Chinese food such as the Dan Dan Noodles. Choose the mushroom option in order to avoid animal-derived ingredients, and start slurping up this flavorful noodle dish.
Jimmy Buffett's Margaritaville
The Beyond Burger Paradise at Jimmy Buffett's Margaritaville is a true triple threat. It's a rich vegan burger topped with dairy-free cheese and an egg-free paradise island sauce. By choosing this burger, you're making sure no cows or chickens were exploited for your food.
NBC Sports Grill & Brew
With scrumptious vegan options on the menu and high-definition screens streaming the hottest sports coverage, this place is heaven for health fanatics. Try the Grain Bowl, a super-nutritious meal packed with mixed grains, snow peas, tofu, avocado, and sweet potato with a spicy peanut sauce—or get a Beyond Burger with nondairy cheese and mayo.
Three Broomsticks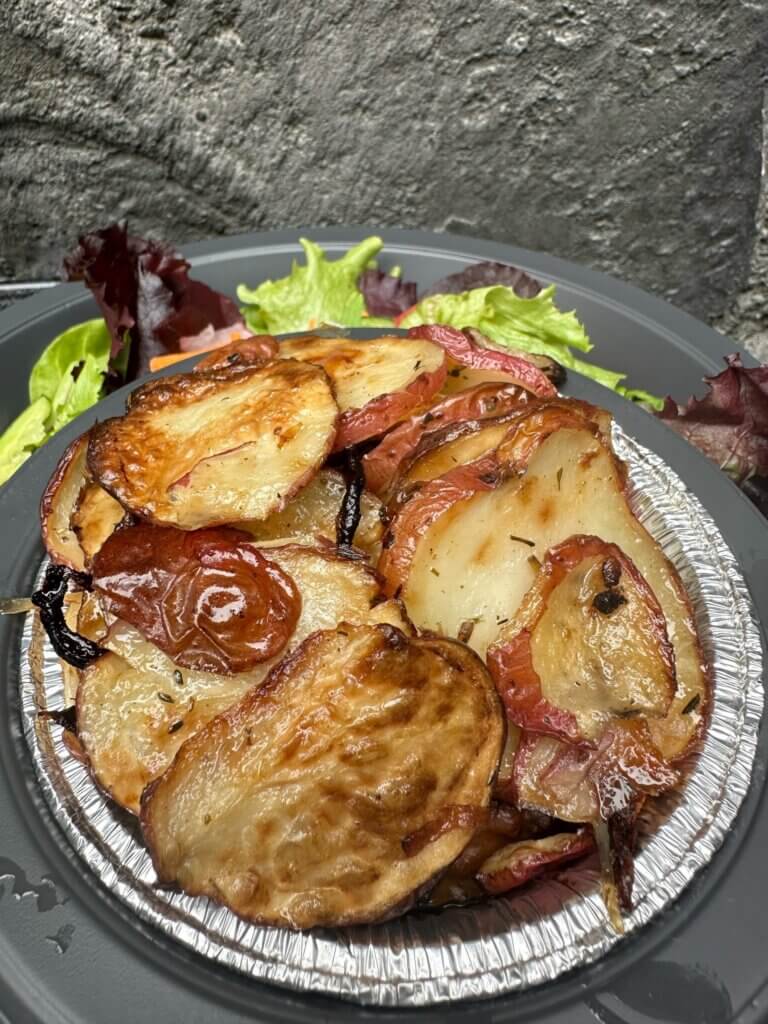 Eat at Three Broomsticks in The Wizarding World of Harry Potter for one of the most authentic Harry Potter dining experiences possible. 🧙 You can get a vegan version of the Shepherd's Pie with Beyond Beef and sliced red potatoes or an Asparagus Vegetable Platter. Wash it down with an icy Non-Dairy Butterbeer to complete a feast that doesn't abuse cows for their flesh or milk.
Krusty Burger
Try Krusty Burger's vegan Mother Nature Burger with lettuce, tomatoes, pickles, and egg-free mayo on a whole wheat bun. Just remember to be compassionate to cows by holding off on the fries here, which contain dairy.
Antojitos Cocina Mexicana
Build an ultimate vegan Mexican feast at Antojitos Cocina Mexicana. You can sub Beyond Meat in almost every dish, like the nachos, which can come with vegan sour cream. Ask for black beans and no cheese or rice, which is made with chicken stock.
ORLANDO
Voodoo Doughnut
Voodoo Doughnut is very animal-friendly. There's an entire section of the menu dedicated to vegan doughnuts—you can choose from sweet treats like the Vegan Maple Bar, the Vegan Sprinkle Cake, or our personal fave, the Vegan Portland Cream.
NBC Sports Grill & Brew
Orlando's NBC Sports Grill & Brew serves the Beyond Smokehouse burger with smoked jackfruit to mimic pulled pork. Stacked with vegan American cheese, BBQ sauce, and caramelized onion, this is one of the juiciest, tastiest burgers CityWalk has to offer.
Bread Box Handcrafted Sandwiches
Bread Box's Hot Vegan Sandwich will melt in your mouth. With a portobello mushroom, avocado, tomatoes, vegan pepper jack cheese, and dairy-free basil pesto sauce between two slices of warm multigrain bread, each bite is bliss for animal-advocate foodies.
The Toothsome Chocolate Emporium & Savory Feast Kitchen
A dairy-free milkshake? We're there. 😍 Sip on the Right Side Up Shake for a soothing blend of vegan pineapple upside down cake, caramel, and oat milk whipped topping. This cold, creamy treat hits different when you realize that no cows were abused for it.
Weasleys' Wizard Wheezes
The Wizarding World of Harry Potter in Orlando has three great stops for vegans: Weasleys' Wizard Wheezes, Sugarplum's Sweet Shop, and the Leaky Cauldron. Shop at Weasleys' Wizard Wheezes for gag gifts, gadgets, and vegan candy like Dark Mark lollipops and Puking Pastilles.
Sugarplum's Sweet Shop
Still haven't satisfied your sweet tooth? Pop in to Sugarplum's Sweet Shop to solve that problem. With so many vegan choices, such as Tongueburners Tooth Splintering Strong Mints, Pear Drops, and Sherbet Lemons, you're sure to find a sugary snack you'll love that lets cows, horses, and other animals live free instead of being exploited for dairy or boiled for gelatin.
Leaky Cauldron
Finally, fuel up for the day with filling vegan food from the Leaky Cauldron. Try the hearty Irish Stew or Shepherd's Pasty Pie for the main course. To wash it down, get the Pumpkin Juice, the Tongue Tying Lemon Squash, or the cold or frozen Non-Dairy Butterbeer (the hot version has dairy).
*****
Cows, pigs, chickens, and other animals are unique individuals with thoughts, feelings, and desires. By being vegan, we're letting them pursue their own interests and enjoy their lives with loved ones. When you're planning a theme park adventure, choose places that offer tons of vegan options like Universal Studios.
One place you should def avoid? SeaWorld. This cruel company keeps animals imprisoned in tiny tanks, where they grow increasingly distressed. Make sure everyone knows why they should stay away, and call out SeaWorld to earn 15 peta2 points!
Text
peta2

to

30933

for ways to help animals, tips on compassionate living, and more!

Terms for automated texts/calls from peta2: http://peta.vg/txt. Text STOP to end, HELP for more info. Msg/data rates may apply. U.S. only.