Theater Kids Can Create Dramatic Change for Animals 🎭
The actor who played everyone's favorite Green Goblin once said this:
"Great theatre is about challenging how we think and encouraging us to fantasize about a world we aspire to."

Willem Dafoe
It's true. Theater has the power to change society; it has pushed us forward for centuries. In fact, I would argue that theater is always pushing boundaries. We create beautiful theatrical productions because we want to speak from our souls about how we think the world ought to be. If that's the case, don't we have a responsibility as artists to put a spotlight on everyone's rights?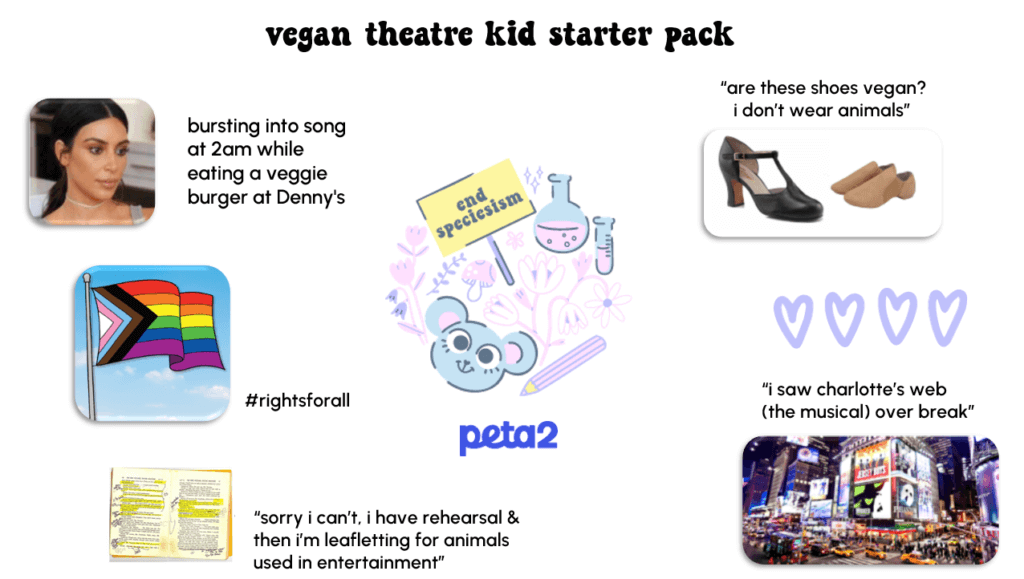 Ever heard of artivism, the use of art in activism? There are tons of creative ways to use your unique voice and talents to advocate for what you believe in! Whether you're writing, directing, acting, stage managing, working as a stagehand, operating the sound or lights, building the set, or filling any other role in creating a play, check out these tips on how you can speak up for animals through theater.
Use Stickers and Leaflets
When I got my first role as assistant director, on a play called Native Gardens by Karen Zacarías, I organized community engagement events to help audiences see how the play connected with Indigenous sovereignty and animal liberation, two issues very important to me.
One good strategy is to ask to put leaflets and stickers around the theater's lobby or even inside the show's programs. People will read them as they're waiting for the play to start!
Even if you're just going to watch a play, who says you can't arrive early and put some leaflets on the seats around you? 😉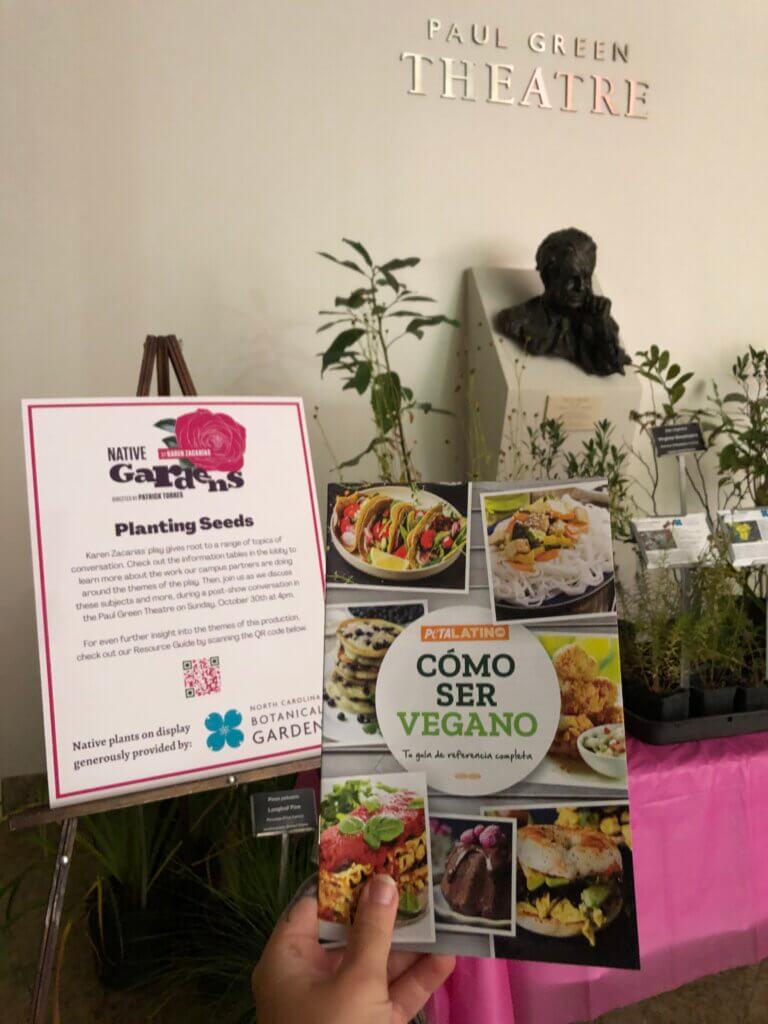 I realized that I could've been speaking up for animals through theater all along, no matter what role I had. Even if the play you're working on isn't all about animals, there is most likely some theme about treating others fairly—and animals should always be included in that.
Use Animal-Free Costumes
Talk to the costume department about not using any clothing items made of materials that came from animals. The actors can look fashionably stunning in faux-feather boas and pleather shoes made without harming animals.
Connect With Your Cast and Crewmates
Need ideas for bonding exercises? Host a vegan potluck or invite the team over for an animal rights film night!
Write Animal-Friendly Scripts
Create inspiring vegan characters! Sometimes shows make jokes about vegans, which is super-harmful to both animals and young vegans who might get picked on because of it. We're definitely in need of more inclusive portrayals of vegan characters that show how heroic they really are. 🦸‍♀️🌱
If there's an animal in your play, be sure to portray them respectfully. In other words, don't make any jokes about their becoming food and be sure to show off their unique personalities and skills. And of course, never make a real animal perform in a play. Instead, cast a human or use a puppet to play the role.
The pronouns and other language you use to refer to animals are also important. For example, one time in a workshop for a new play, I sat down with the playwright to tell him that I thought his play was beautiful but that there was one line that bothered me. One of the characters referred to a dog as "it." The playwright was super-understanding and appreciated the eye-opening explanation about why we should use "he," "she," or "they" when talking about animals (because they aren't objects). The next day, he switched the line from "it" to "he." 🐶🥳
Get Vegan Snacks Added to the Concessions Stand
Speak with the person who runs the concessions stand and express how important it is that everyone have snack options. Hippeas, Ka-Pop! dairy-free cheddar puffs, and Fritos would be great additions! 😋
Wear Animal Rights Shirts to Rehearsals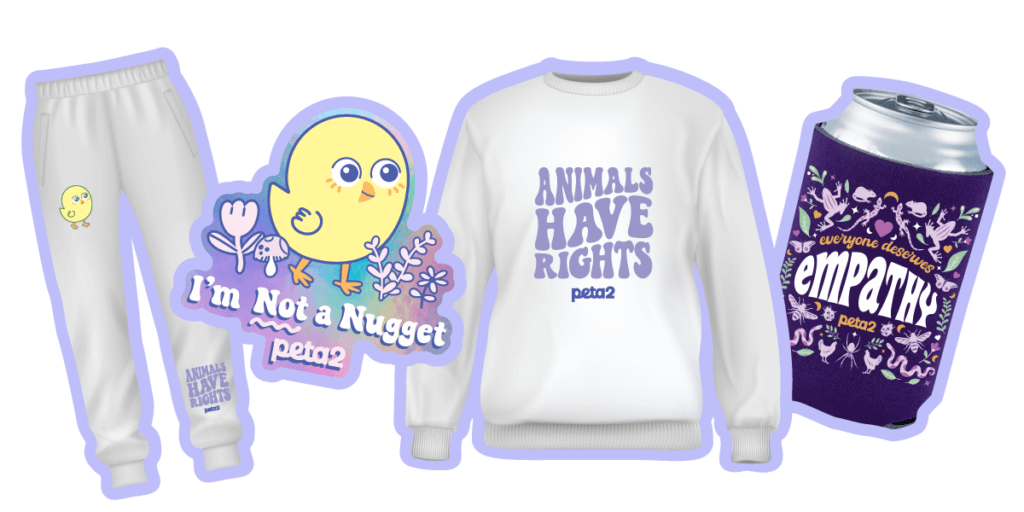 Are you a part of the peta2 Rewards Program? Rep animal rights by rocking some of the free merch you can earn—like a shirt, tumbler, or pin—at rehearsals.
*****
Next time you're a part of a theater production, get creative when it comes to encouraging your production team and audience members to include animal rights in their artivism. 🐮🦊🎭
And remember, you can e-mail us at [email protected] if you want free animal rights stickers and leaflets to display in the lobby. 💖
Text
peta2

to

30933

for ways to help animals, tips on compassionate living, and more!

Terms for automated texts/calls from peta2: http://peta.vg/txt. Text STOP to end, HELP for more info. Msg/data rates may apply. U.S. only.