There are very exciting things happening in the world of vegan food. Things like cheese sticks … yeah. The demand for vegan options is constantly on the rise, and companies are listening. If you haven't already, there's never been a better time to join the party! This party:
Daiya Cheese Sticks
One thing that vegans might have missed is string cheese. Well, now we have that. There's nothing too extra for the modern vegan.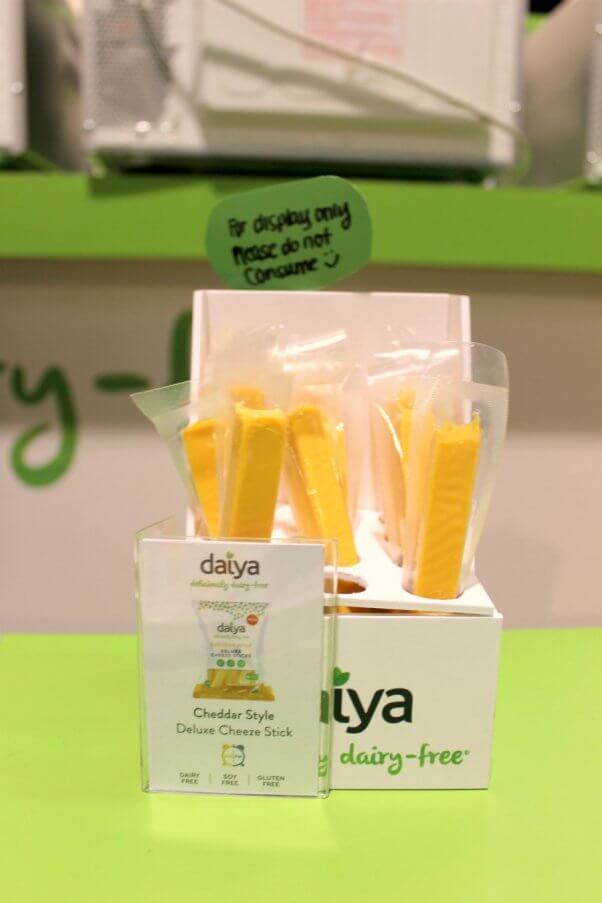 Daiya Ice Cream Bars
Another day, another vegan option. #AmIRite? These bars are a great idea because a pint of vegan ice cream is almost impossible not to finish in one sitting. Perfectly portioned vegan ice cream bars with a crunchy chocolate shell are here to save us.
Field Roast Chao Dressings and Dips
I'm screaming right now—in silence so not to disrupt anyone—because it's damn near impossible to contain my excitement about Field Roast's new dressings. Delicious ranch and Caesar in a jar, available WHENEVER I want. Are you kidding me? ?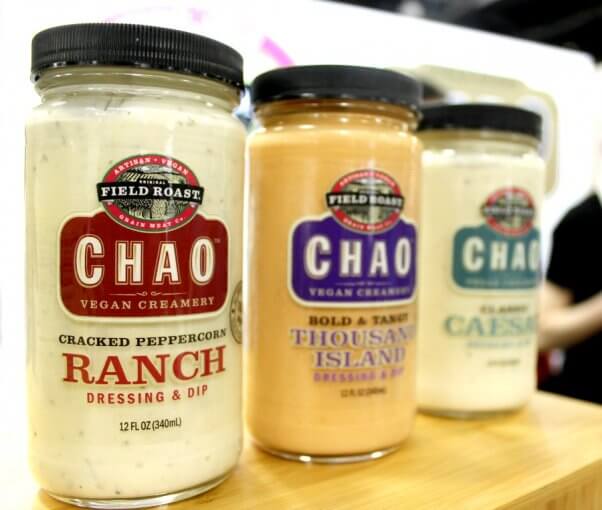 When these come out, you will not see this face for weeks because I'll be forehead-high in salad dressing. Ciao! Chao!
 Good Planet Foods Dairy Free Cheese
Cheese, cheese, and more cheese. These slices look LEGIT. Feeling very warm and tingly inside.
Loving Earth Chocolate
This vegan chocolate company is killing it (with kindness!). It's sustainable and fair trade, and it uses only non-GMO ingredients.
Miyoko's Kitchen 'Un-Lox Your Dreams' Cream Cheese
I just had to pinch myself because I thought I died and went to bagel heaven—the only heaven worth going to. You'll see … But I didn't pass away—it's just Miyoko's making dreams come true.
Violife Mediterranean Style and Just Like Feta Vegan Cheeses
It's like I always say: Feta is betta when no animals were violently slaughtered in cold blood for it. Can we all agree? Thanks, Violife!
Beyond Meat Beyond Sausage
How they got these sausages to taste this good is beyond me, but they're undoubtedly going to sausave so many animals. I guess not all heroes wear capes. ?
Good Catch Foods Vegan Crab Cakes
Since Scientists are predicting fishless oceans by 2048 if we keep sucking all the animals out of them at the rate we are now, you should catch some of these vegan crab cakes outside at the grocery store. ?
Good Catch Foods Fish-Free Burger
Kind, smart, and beautiful: Good Catch's new fish-free burger—a GREAT catch by any standards—is just being modest.
No Evil Foods
The opposite of no evil is evil, and how else can you describe factory farms, where billions of animals are bred, exploited, confined, and abused only to be subjected to an excruciatingly painful and terrifying death?
No Evil Foods will help make it possible for people to enjoy the taste of chorizo, sausage, chicken, ham roasts, and more without any of this evil.
Vegan Fish Sauce by 24Vegan
Nonvegan fish sauce? Sheer disgustingness. Vegan fish sauce? Why not?! Now we can fish-saucify our pad Thai and other classic dishes to achieve that traditional flavor.
Daiya Burritos
If you're telling me that I can make cheezy burritos just by pressing a couple of buttons on the microwave, then you're telling me that people can buy happiness—and all we have to do is go to the grocery store.
Enjoy Life Foods Dipped Banana Protein Bites
Dipped banana protein bites, hey? Yum! Not to mention that these snacks pack six grams of protein and are palm oil–free. #NutritiousAndDelicious #AndSustainable
Field Roast Mac 'n Chao
This year, Field Roast introduced a version of Mac 'n Chao with macaroni noodles instead of penne. That sounds, ummm, perfect.
Outstanding Foods Pig Out Pigless Bacon Chips
Sure, I like the flavor of bacon—but I'd rather not dine on swine. I don't even want pork touching my fork. Ham just isn't my jam. And THAT'S why I love these Pigless Bacon Chips, which let me pig out without eating any pigs. Get you some!
Gardein Skillet Meals
Some days you're just too lazy simply unable to cook anything. Don't fall into the trap of ordering a $25 burrito on a food-delivery app.  ? These Gardein Skillet Meals are so easy and so yummy.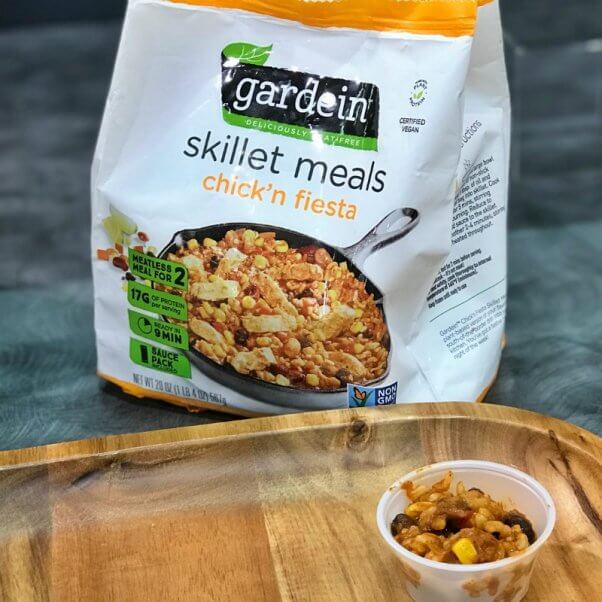 *****
These are just some of the awesome new vegan products coming your way. Keep an eye out for them, and remember: None of these options would be available if forward-thinking consumers like you didn't keep demanding them. Clearly, asking for what you want works, so ask Pizza Hut for vegan cheese!